Nothing beats relaxing in a tastefully decorated room after spending a thrilling day exploring the wonders of our little island! – Official Tourism Site for Île d'Orléans
I slept well during my travels on Île d'Orléans. Part of it was because I walked an average of 10 miles a day around the 42-mile Chemin Royal (Royal Road) that encircles the island. But the bigger reason for my restful nights was because of my accommodations on Île d'Orléans – the comfortable, quiet lodging that I stayed in, and the friendly people who owned or worked at the places to stay.
Île d'Orléans has many, many options for sleeping. At least 30, if not near 40 choices, on this small island. Anything from bed-and-breakfasts, to inns and auberges; from tourist homes, some in ancestral/centuries-old homes, to a hotel; from renting an entire cottage to camping, including one "five-star" campground. Many of the accommodations have great views, and many include food or have restaurants. One place even offers massage and yoga. I stayed in four places, and here they are in the order of my first through fourth nights on Île d'Orléans, an island near Québec City, Canada.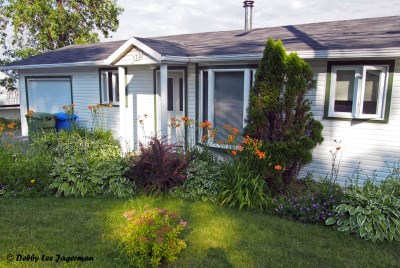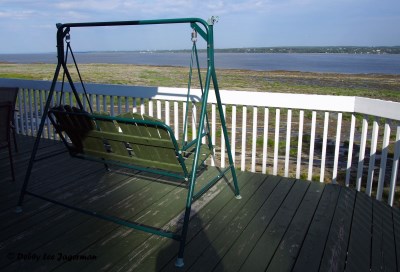 The first place I stayed in was my very own riverfront cottage. My very own little house, with all the comforts of home. Le Moulin de Saint Laurent rents cottages from a choice of nine "fully equipped houses that can accommodate 2 to 10 people." (But I was by myself, so really they accommodate 1 to 10 people.) Most of these homes have private balconies with a view of the Saint Lawrence River. They have fully equipped kitchens, living rooms, even washers and dryers. Like I said, all the comforts of home.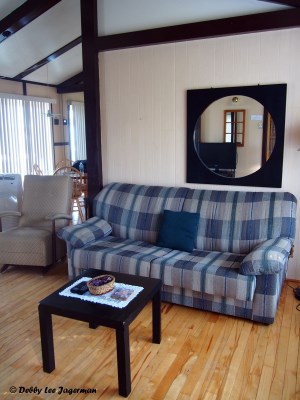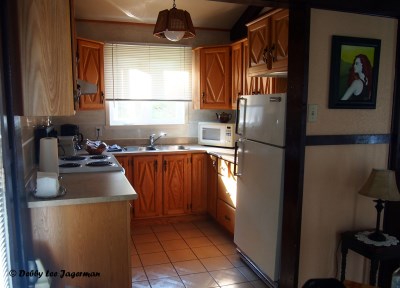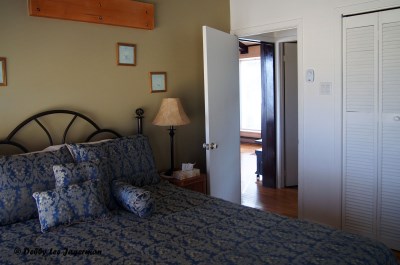 Of course, the number of bedrooms and bathrooms and sizes of the cottages varies, depending on your needs. This family-owned business also has a great restaurant, which has the best dessert ever that I just covered in my previous blog on fine dining on Île d'Orléans. Located in Saint Laurent Parish, Le Moulin de Saint Laurent even provided me with breakfast in my cottage which they left in my kitchen. A basket of fruit, breads, croissants, and muffins, even peanut butter and jelly, coffee, tea, and juice. Having your very own house makes this a very fun place to stay for a night, or more.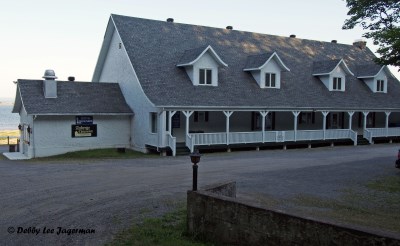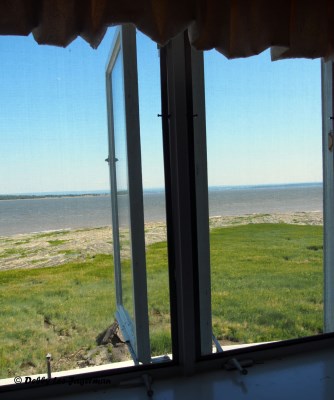 My second restful night was at Auberge Chaumonot, an inn located along the Saint Lawrence River in the Saint François Parish of Île d'Orléans. My air conditioned room (used well, as it was hot out), had a view out the window of the river. With eight rooms in total, all with private bathrooms, and either one or two queen size beds, this accommodation also offers an outdoor pool and a terrace to enjoy the view.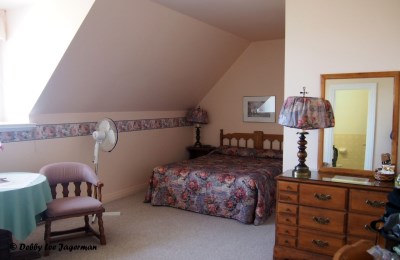 Auberge Chaumonot has a dining room with varied table d'hôte and à la carte menus, and a lounge area. My breakfast was served buffet style. They also have a room for meetings, small conventions, and special occasions, including weddings and receptions. Set back from Chemin Royal about a kilometer, this lodging is a quiet and peaceful place to stay for a night on Île d'Orléans, or more.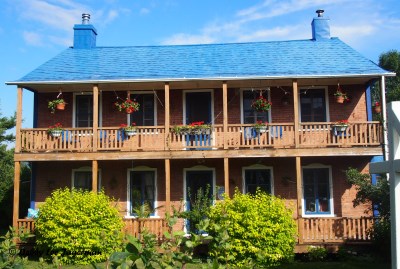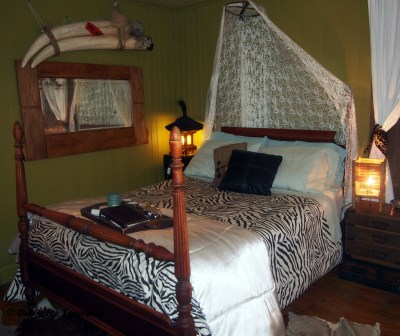 While the weather I had during my walk around Île d'Orléans was mostly hot, I did get hit one day with a very big thunder, lightening, and rain storm. Fortunately, when I arrived at Gîte au Toit Bleu Bed & Breakfast, LouLou, one of two owners, greeted me with great hospitality, and even helped me out by drying some of my wet clothes. Located in a house, with a blue roof, built in 1894 (how cool is that!), this B&B has five rooms ranging in different sizes. Some rooms have a shared bathroom, some have private bathrooms, all are colorfully named ("Chambre Bleu, Chambre Mauve, Chambre Or, Chambre Saumon, and Chambre Blanche"), and all are uniquely decorated. I had Chambre Blanche.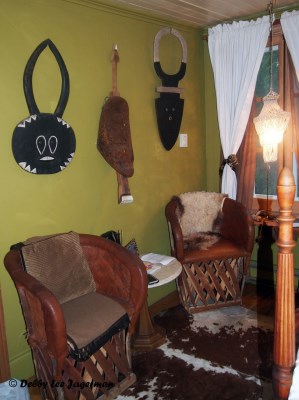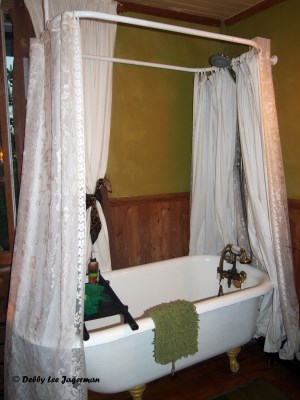 Located on the grounds of Gîte au Toit Bleu is a chicken coop which supplies fresh eggs for their gourmet breakfasts. My breakfast included a fruit salad, an egg frittata, sausage, bread, tea, and fruit juice. They ask if you are vegetarian or have any diet restrictions. Located in Sainte Famille Parish, with a view of the Laurentian Mountains and the Saint Lawrence River, they speak English, French, Spanish, and Japanese. My extremely cute room, and hospitable hosts, made this B&B a wonderful place to stay for a night, or more.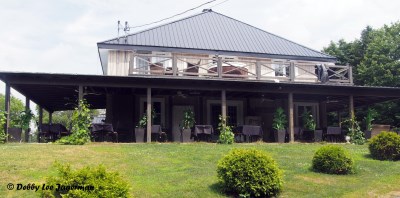 My final sleep-filled night was spent at La Grange de L'ile, where I also enjoyed a great meal in their restaurant. Set back from the road, this auberge provides eight various rooms, all with private bathrooms, queen beds, and air conditioning. Located in a 160-year old building (how cool is that!), there is also a bar, an outdoor terrace, and a great garden. Meetings, parties, weddings, and receptions can be held here, and they even offer culinary workshops for cooking enthusiasts.
Located in Saint Pierre Parish, La Grange de L'ile includes a hot breakfast with their rooms, served in the restaurant, which I unfortunately did not have because my flight that morning was too early. But I definitely ate well the night before, and slept well, just as their motto says: "Bon vin. Bonne table. Bonne nuit." "Good wine. Good food. Good night." A fourth great place to stay on Île d'Orléans for a night, or more.
So my 37th, 38th, 39th, and 40th reasons, out of my 42 reasons to visit Île d'Orléans, are Le Moulin de Saint Laurent, Auberge Chaumonot, Gîte au Toit Bleu, and La Grange de L'ile. However, I am sure that any of the other numerous accommodations on Île d'Orléans will provide just as restful, fun, peaceful, comfortable, and hospitable nights as these four did for me.
A very helpful link to assist with lodging on Île d'Orléans, which lists 38 accommodations, is the "where to stay" page from the official tourism site for Île d'Orléans.
Sweet (and restful) Travels!
To recap my first 36, out of 42, reasons to visit Île d'Orléans:
#1. The Quiet.
#2 through #4. The Chocolate Shops.
#5 through #10. The Wineries, Cidreries, and Vinaigreries.
#11 through #16. The Churches.
#17. The Aroma of Lavender.
#18 and #19. Recycled Folk Art and Textile Weaving.
#20. Strawberry Season.
#21 and #22. Strawberries, Raspberries, and Blackcurrants. Oh my!
#23. The Mailboxes.
#24 and #25. The Art in the Garden and The Garden of Arts.
#26 and #27. Procession Chapels and Roadside Crosses.
#28 and #29. Maple Syrup and Cheese.
#30. Parc Maritime/Maritime History.
#31 and #32. Woodworking and Blacksmithing.
#33 and #34. The Farmland and The River Scenery.
#35 and #36. Fine Dining.
My walking tour of Île d'Orléans was sponsored by Tourisme Québec (Québec Original) and Québec City Tourism (Québec Region). For more information, please visit:
Tourisme Île d'Orléans
Quebéc Region
Quebéc Region-Québec City and Area-Île d'Orléans
Quebéc Original
Also note that my accommodations were complimentary, but my opinions are my own.