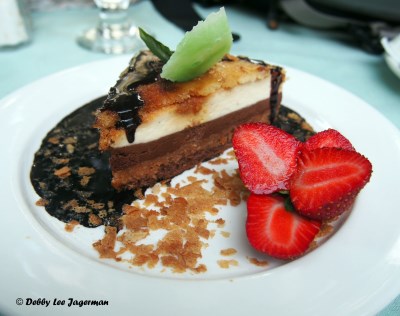 Ok, I will start this blog out with dessert first! I mean after all, life is short, right? Le Moulin de Saint-Laurent, in my opinion, had the best dessert ever. Called "Le Plaisir," the dessert is described in French as "Mousse au chocolat, mousse à la vanille, croquant praliné et biscuit aux amandes caramélisées." Translate that to chocolate and vanilla mousse, topped with hazelnut crunch, and caramelized almond cookie, and you can see why this dessert is called "the pleasure."
With nearly 20 restaurants along the 42-mile Chemin Royal (Royal Road) that encircles Île d'Orléans, (which is an average of about two restaurants every mile), you will definitely be well fed, whether you drive, bicycle, or walk, like I did, this island near Québec City, Canada. During my walk, I experienced just some of the fine dining on Île d'Orléans at two great restaurants.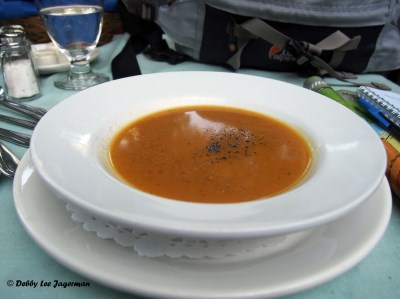 The food at Le Moulin de Saint-Laurent, a restaurant of fine regional cuisine, was just as pleasurable as dessert. While sitting outside on one of two patios, with a view of a waterfall, my meal started with a vegetable cream soup. My main course was walleye fish (I believe locally caught), breaded in polenta with a lemon sauce. This was served with coriander rice, sautéed vegetables, and broccolini. And finally, that dessert! In fact, the dessert was so good that I had to include two pictures from two different sides, as it looks like I ate two different desserts.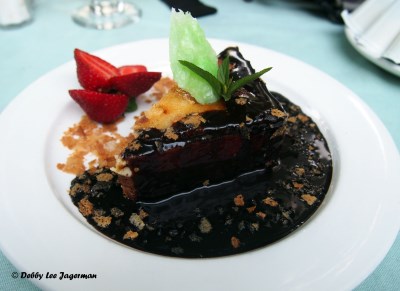 Located in an historic two-story building with an attic and a shingled roof, constructed under the French Régime back around 1720, the building that is currently Le Moulin de Saint-Laurent was originally a water mill used to grind wheat into flour for the people living on the southern side of Île d'Orléans. With a couple of different owners, the mill lasted until around the 1920's, when the business was abandoned. In 1963, a couple from Holland purchased the old water mill and turned it into a restaurant. In 1986, the restaurant was purchased by the present owners, the Premont-Lachance family. Throughout the years, they have made several renovations to the building to safeguard its authenticity, and to "maintain the character and unique style that has made this establishment famous."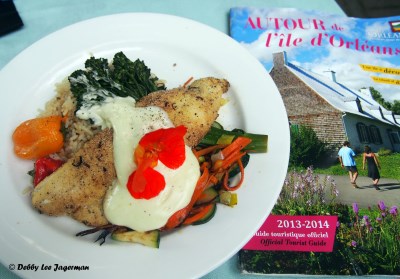 With an extensive wine list, including local wines from Île d'Orléans, and international wines from Canada, France, Italy, Spain, Australia, and California, as well as sparkling wines, ports, and liquors, Le Moulin de Saint-Laurent, which also rents riverfront cottages, is definitely a place for some fine dining on Île d'Orléans.
 **********
The motto of La Grange de l'Ile is "Bon vin. Bonne table. Bonne nuit." "Good wine. Good food. Good night." Indeed!! Amélie Bilodeau and Pierre Fortin, whom I had the great pleasure to meet and talk with, acquired their 160-year old building in 2009, and renovated it to not only become a restaurant and an auberge, but also a place to have various meetings and parties, including weddings and receptions, because of its expansive grounds.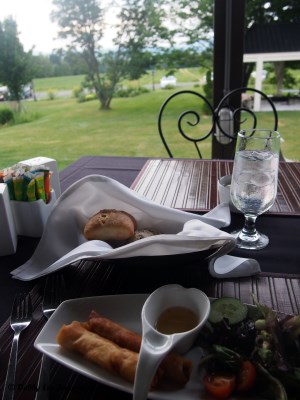 Serving international cuisine, made from local products, my meal chosen from their "Table d'hȏte" menu started with olive and white breads, and rouleaux impériaux – crunchy spring rolls. As I sat outdoors enjoying the view of their grounds, my meal continued with potage – potato soup. My main course was the pizza saumon fumé – smoked salmon pizza. And of course, I saved room for dessert. A chocolate hazelnut cake. Trés délicieux.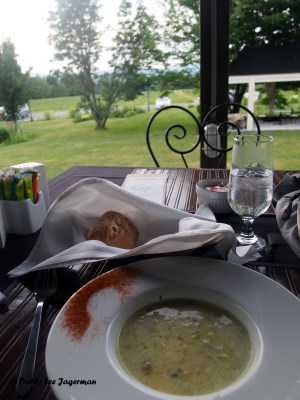 La Grange de l'Ile also proudly presents a wine list with more than 70 selections. While I was sitting by myself enjoying my meal, I definitely did not feel alone here. The restaurant was crowded, with what seemed like a mix of both tourists and locals. And it was only a Thursday night. Definitely another place for some fine dining on Île d'Orléans.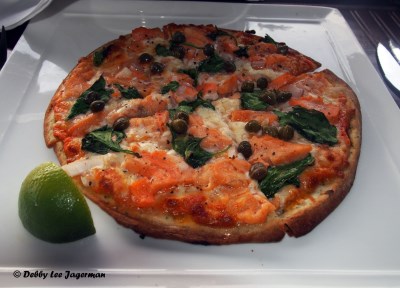 So my 35th and 36th reasons, out of my 42 reasons to visit Île d'Orléans, are Le Moulin de Saint-Laurent and La Grange de l'Ile. Although, I am sure that any of the other nearly 20 restaurants on the island are just as pleasurable.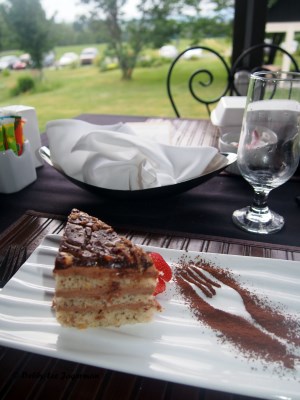 As I mentioned, both these restaurants also offer accommodations, which were two of my four accommodations on the island, all of which will be the subject of my next blog.
Sweet (and pleasurable) Travels!
To recap my first 34, out of 42, reasons to visit Île d'Orléans:
#1. The Quiet.
#2 through #4. The Chocolate Shops.
#5 through #10. The Wineries, Cidreries, and Vinaigreries.
#11 through #16. The Churches.
#17. The Aroma of Lavender.
#18 and #19. Recycled Folk Art and Textile Weaving.
#20. Strawberry Season.
#21 and #22. Strawberries, Raspberries, and Blackcurrants. Oh my!
#23. The Mailboxes.
#24 and #25. The Art in the Garden and The Garden of Arts.
#26 and #27. Procession Chapels and Roadside Crosses.
#28 and #29. Maple Syrup and Cheese.
#30. Parc Maritime/Maritime History.
#31 and #32. Woodworking and Blacksmithing.
#33 and #34. The Farmland and The River Scenery.
My walking tour of Île d'Orléans was sponsored by Tourisme Québec (Québec Original) and Québec City Tourism (Québec Region). For more information, please visit:
Tourisme Île d'Orléans
Quebéc Region
Quebéc Region-Québec City and Area-Île d'Orléans
Quebéc Original
Also note that my meals at these two restaurants were complimentary, but my opinions are my own.