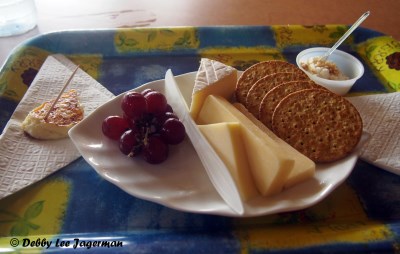 You might be asking me, what do maple syrup and cheese have in common that you are putting them in the same blog? Well, not only do they both taste good, but both are specialties of Île d'Orléans, an island near Québec City, Canada. The two places that I visited on my 42-mile walk around Chemin Royal (Royal Road) that encircles Île d'Orléans, Érablière Richard Boily sugar shack and maple farm, and Les Fromages de l'Îsle d'Orléans, are very close in proximity to each other. And, in fact, Les Fromages even suggests using maple syrup as a topping on their cheese.
 *****
Did you know that the five weeks in the spring season, from mid-March to mid-April, is the only time all year that the Érablière Richard Boily can collect the maple sap from their 6,000 trees in order to make their maple syrup? It needs to be cold at night, and not so cold during the day for this process to happen. All their trees are connected by a tubing system, whereby the sap is collected in buckets. Each day, the sap is cooked for 3-1/2 hours, and amazingly for each 50 gallons of sap, it is boiled down to only one gallon of maple syrup. During the five weeks, a total of 50,000 gallons of sap create only 1,000 gallons of maple syrup. I never realized how much work, in so little time, goes into making maple syrup.
The maple syrup that Érablière Richard Boily produces is, of course, a great topping for pancakes and French toast. It can also be a topping for ice cream, yogurt, and fresh fruit. How about trying maple syrup the traditional way in Québec – to eat maple syrup plain, as dessert, by pouring it in a cup, adding a little bit of cream, and dipping in homemade bread.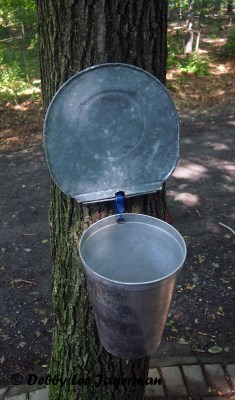 Érablière Richard Boily also makes maple butter. While there is actually no butter in the maple butter, you use it as if it was butter, such as spreading it on toast. And how about trying maple butter the traditional way in Québec – called "tartine de crème," "slice of cream," take a large slice of homemade bread, add cream, and spread with the maple butter.
Other products include granulated maple sugar, which has the same texture as brown sugar, and can be sprinkled on oatmeal, yogurt, ice cream, fresh fruit, apple pie, or even in coffee as your sweetener. Maple candies, in the shape of a maple leaf, have a similar texture as fudge. And if you check out the website for Érablière Richard Boily, they have recipes for maple syrup fondue, pudding cake with maple syrup, and maple syrup pie.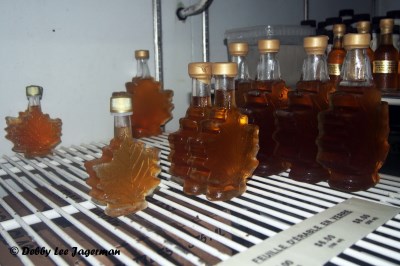 When visiting Érablière Richard Boily sugar shack and maple farm, they offer a 30-minute guided tour, which includes the full explanation of the process of making maple syrup from collecting the sap, to the boiling process to obtain the maple syrup. A small shop sells their maple products, offers serving suggestions, and allows you to sample some of their products.
*****
Did you know that Île d'Orléans is where the first cheese was made in America? The early inhabitants of the island started to make cheese in their homes with recipes brought over from Europe back in 1635. Since then, recipes have been passed down from generation to generation. Between 1940 and 1970 there were 38 families around the island still making cheese. And in 2004, Les Fromages de l'Îsle d'Orléans opened their doors, currently the only cheese shop on Île d'Orléans.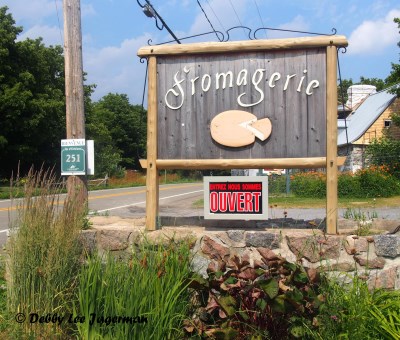 To commemorate the tradition and the history of cheese on Île d'Orléans, the shop itself has a 17th century environment, including the architecture of the building, and the staff dressed in traditional costumes. Their award winning cheese is made in the downstairs of the shop, and the cheese is made out of pasteurized cow's milk, not powder, and not goat's milk, as there are no goats on the island.
Les Fromages has tasters of their cheese, served along with brie, grapes, and crackers. The tasters are of their "first stage" and "second stage" of cheese manufacturing, of which there are actually three stages. Le Faisselle is the first stage, a fresh cheese, ready to eat after one day. It is creamy, and has the texture of a mix between cottage cheese and plain yogurt. It is great to eat by itself, but also can be accompanied with caramelized apples or pears; with salt and pepper, shallots, or chives; on a bagel with berries; as part of your lasagna recipe; included in your recipe for cheesecake; and can replace mayonnaise in a salad or sandwich. It is even tasty with granulated sugar, apple syrup, maple nuggets, or…maple syrup!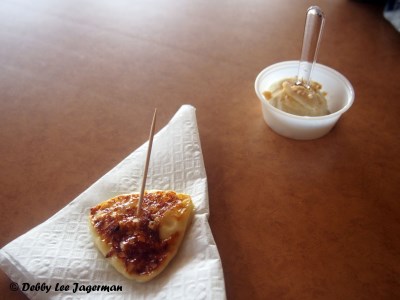 Les Paillasson is the second stage of cheese manufacturing, where the cheese is dried for an additional three to four days, and salt is added. In this stage, the cheese must be roasted, for example on a nonstick skillet, without fat, over medium heat for two to three minutes. It actually doesn't melt, is served warm, and has the consistency of a soft cheese. Les Fromages cooks this cheese right in front of you, so as you are standing in line, you can anticipate the flavor. It is very tasty! Serve it in a salad with mango and tomato; or on a burger or ham sandwich; in a fondue; or with caramelized apples or pears and…maple syrup!
Finally, La Raffiné, the third stage, continues the process whereby the cheese is aged in a cellar for 28 days, and turns into a soft cheese with a crust. Serve with fresh bread.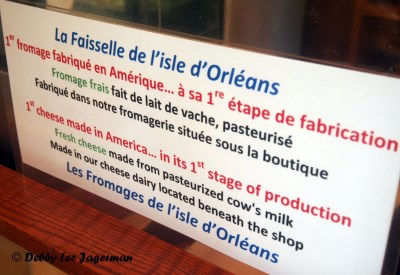 Les Fromages de l'Îsle d'Orléans sells not only their own cheeses in their shop, but also other cheeses from the Québec region. In fact, they carry many other products in the shop as well, totaling 195 products from 10 to 12 local businesses. Finally, they have a terrace where you can sit and enjoy your sampling of cheeses.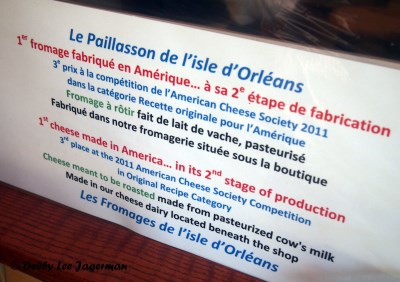 So my reasons #28 and #29, out of my 42 reasons to visit Île d'Orléans, are Érablière Richard Boily sugar shack and maple farm, and Les Fromages de l'Îsle d'Orléans, two specialties of the island, that even taste great together!
Sweet Travels!
To recap my first 27, out of 42, reasons to visit Île d'Orléans:
#1. The Quiet.
#2 through #4. The Chocolate Shops.
#5 through #10. The Wineries, Cidreries, and Vinaigreries.
#11 through #16. The Churches.
#17. The Aroma of Lavender.
#18 and #19. Recycled Folk Art and Textile Weaving.
#20. Strawberry Season.
#21 and #22. Strawberries, Raspberries, and Blackcurrants. Oh my!
#23. The Mailboxes.
#24 and #25. The Art in the Garden and The Garden of Arts.
#26 and #27. Procession Chapels and Roadside Crosses.
My walking tour of Île d'Orléans was sponsored by Tourisme Québec (Québec Original) and Québec City Tourism (Québec Region). For more information, please visit:
Tourisme Île d'Orléans
Quebéc Region
Quebéc Region-Québec City and Area-Île d'Orléans
Quebéc Original