He uses recycled wood and metal for his folk art. She uses a several-hundred year-old method for her textile weaving art. Together they have been married for 47 years and have had their business, Atelier-Boutique À l'Ombre du Vent, for 15 years. To visit their studio and shop, and to see their recycled folk art and textile weaving art on Île d'Orléans, is quite a unique experience, and two (#18 and #19) of my 42 reasons to visit Île d'Orléans, an island near Québec City, Canada.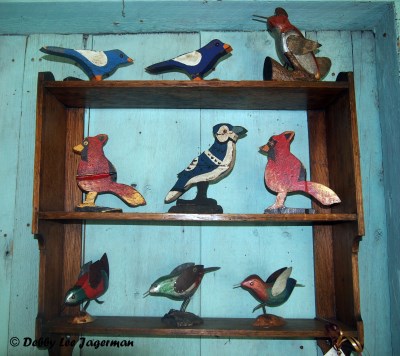 Yves Robitaille is inspired by both domesticated and wild animals that live on Île d'Orléans, such as birds, fowl, ducks, fish, and sheep, as well as by flowers. His recycled folk art sculptures are a combination of woodworking, using old wood, and tin and metal from places such as old barn roofs. It takes Yves about one to two days to make each piece, and his contemporary sculptures reflect the passions he has for nature, art, and for living on Île d'Orléans.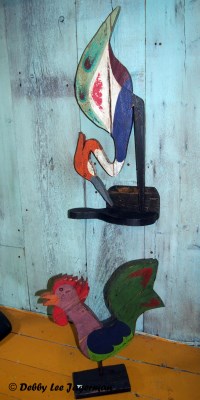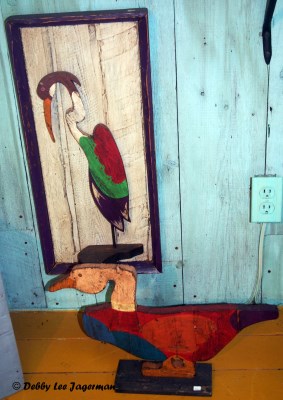 Annette Duchesne Robitaille is inspired by the movement of organic materials in nature, such as partridges, angels, and the patterns on wood logs. Her textile weaving art is based on a method crafted by Joseph Marie Jacquard in the 18th century in France, which placed a special mechanism on a loom for added control in order to produce a sophisticated and more complex pattern of weaving fabric.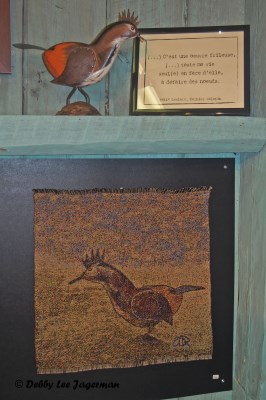 One might even say that Annette's textile weaving art looks impressionistic in style. She explained to me that her process of making one piece of art is a "Zen" process for her, a process she enjoys – it takes 75 hours just to prepare her art on a computer, before taking 40 hours to do the actual weaving. She makes tapestries, shawls, and scarves, with unique patterns, and uses natural fibers, such as wool, alpaca, linen, and cotton.
The name of their shop, À l'Ombre du Vent, translates to "In the Shadow of the Wind." Together, Annette and Yves have sold their unique art to people from five continents. If you would like to visit their studio and shop, they are open 10am-5pm, 6 months a year, 7 days a week. I visited during my walking tour of the 42-mile Chemin Royal (Royal Road) that encircles the perimeter of Île d'Orléans, and truly enjoyed not only seeing their recycled folk art and textile weaving art on Île d'Orléans, but also talking with them, and getting to know them.
Sweet (and unique) Travels!
To recap my first 17, out of 42, reasons to visit Île d'Orléans:
#1. The quiet.
#2 through #4. The chocolate shops.
#5 through #10. The wineries, cidreries, and vinaigreries.
#11 through #16. The churches.
#17. The aroma of lavender.
My walking tour of Île d'Orléans was sponsored by Tourisme Québec (Québec Original) and Québec City Tourism (Québec Region). For more information, please visit:
Tourisme Île d'Orléans
Quebéc Region
Quebéc Region-Québec City and Area-Île d'Orléans
Quebéc Original