To support the difficult and the useless,
There is the island tour.
Forty-two miles of quiet things.
To forget large wounds below the armour,
Summer, winter, there is the island tour.
The Island of Orleans.
—-Félix Leclerc (Translated from the song Le Tour de L' Île, The Tour of the Island)
Forty-two miles of quiet things. Forty-two miles of forgetting worries and difficulties. Forty-two miles, in any season. There is the island tour. Words from a song written by a French-Canadian singer-songwriter, Félix Leclerc, describing Île d'Orléans, an island near Québec City, Canada. An island with a 42-mile road that circles its perimeter. I recently returned from experiencing this road of 42 miles of quiet things on a four-day walking tour. While walking, I discovered the quiet that Félix Leclerc was referring to.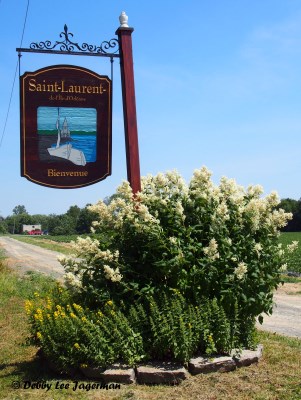 I also discovered, though, 42 miles of delicious things, of beautiful and scenic things, of sweet and fruity things, of artistic and aromatic things, of historical and religious things, of restful things. The road of quiet things is filled with so many places to shop, eat, drink, taste, smell, learn about, and sleep as you travel around. Therefore, I also discovered (at least) 42 reasons to visit Île d'Orléans.
Technically the 42-mile road is called Chemin Royal, the Royal Road, which is part of Route 368. Route 368 starts in Québec City, crosses the Pont de L' Île, a suspension bridge connecting the island to the mainland, also called Île d'Orléans Bridge, and then continues around the island. There is only one stop light on the entire island.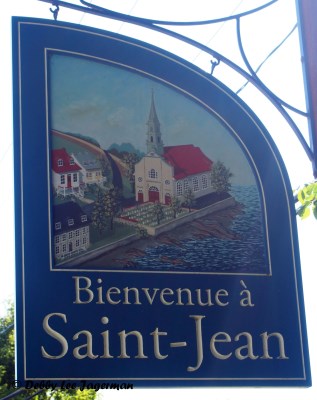 Within the island there are six parishes, the first of which was established in 1661, each with its own specialties of delicious, or artistic, or aromatic things. As you walk around the island there are "bienvenue" signs welcoming you, as well as "au revoir" signs, at each parish border.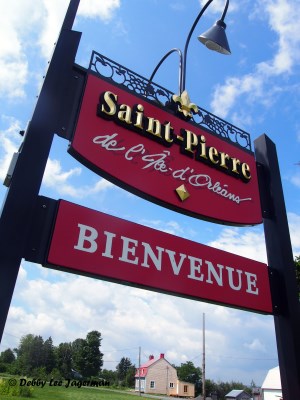 The island tour…I recommend taking one. I am one of the few who have walked the island. The more popular options are to bicycle or drive around. It does not matter which method of transportation you choose. Although in my opinion, the advantage to walking is seeing the island at a slow, quiet pace.
So, the first of 42 reasons to visit Île d'Orléans is exactly what Félix Leclerc was talking about…the quiet. Yes, there were cars driving by on the road as I was walking, but other than that, it was quiet. And peaceful. With trees or farmland on either side of the road, the Saint Lawrence River surrounding beyond. Beautiful historical homes and their well-tended gardens. And all the places to stop and savor what this quiet island has to offer.
I will be writing about the other 41 reasons to visit Île d'Orléans in an upcoming series of blogs. Afterwards, I will also write a "tips for walking" blog on doing your own walking tour of the 42 miles of quiet things, as well as a "travel guide" to help plan your trip to Île d'Orléans, whether you walk, bicycle, or travel by car.
Sweet (and quiet) Travels!
Updated 12/19/13: Here are links to ALL the other 41 reasons to visit Île d'Orléans, as well as the link to my "Tips for Walking Île d'Orléans" blog, and my "Travel Guide to Île d'Orléans," to help with planning your trip to this amazing island.
#2 through #4. The chocolate shops.
#5 through #10. The wineries, cidreries, and vinaigreries.
#11 through #16. The churches.
#17. The aroma of lavender.
#18 and #19. Recycled Folk Art and Textile Weaving.
#20. Strawberry Season.
#21 and #22. Strawberries, and raspberries and blackcurrants. Oh my!
#23. The Mailboxes.
#24 and #25. The Art in the Garden and The Garden of Arts.
#26 and #27. Procession Chapels and Roadside Crosses.
#28 and #29. Maple Syrup and Cheese.
#30. Parc Maritime/Maritime History.
#31 and #32. Woodworking and Blacksmithing.
#33 and #34. The Farmland and The River Scenery.
#35 and #36. Fine Dining.
#37 through #40. Accommodations.
#41 and #42. The Porches and ALL the Other Reasons.
My walking tour of Île d'Orléans was sponsored by Tourisme Québec (Québec Original) and Québec City Tourism (Québec Region). For more information, please visit:
Tourisme.iledorleans.com
Quebecregion.com
Quebecregion.com/en/quebec-city-and-area/ile-d-orleans
QuebecOriginal.com