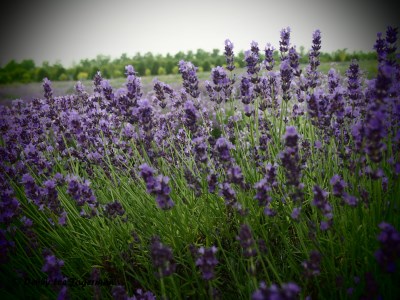 Ahhhh. The soft, tranquil, quiet scent of lavender. From a field filled with over 75,000 lavender plants to a store full of products made from lavender, the Seigneurie de l'île d'Orléans fills the air with the aroma of lavender on Île d'Orléans.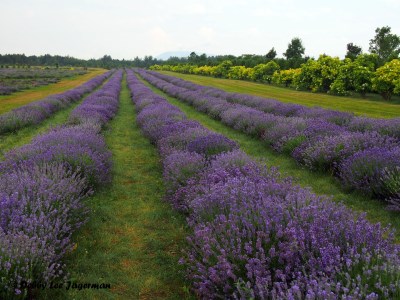 My 17th reason (out of 42 reasons) to visit Île d'Orléans, an island near Québec City, Canada, is because of the experience of walking through a 10-acre garden of lavender. As you stroll around, you are swimming in a sea of purple, yellow, and green. Rows and rows of purple lavender surrounded by yellow Elderberry and green Cedars. Definitely a place to spend some time.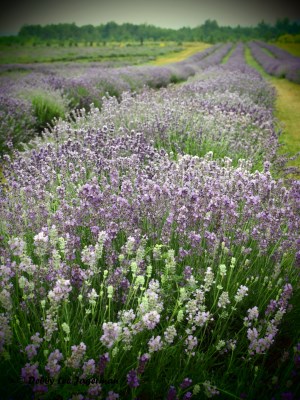 In fact, if you want to visit the entire Seigneurie de l'île d'Orléans, you will need at least two hours. Not only does this place specialize in lavender, but there are also several other gardens to spend your time. Not only for the aroma, but for all your senses. Their website says this: "The Seigneurie de l'île d'Orléans offers an unforgettable sensory experience. Our gardens are carefully maintained and designed to meet all your senses. You can even taste edible flowers!"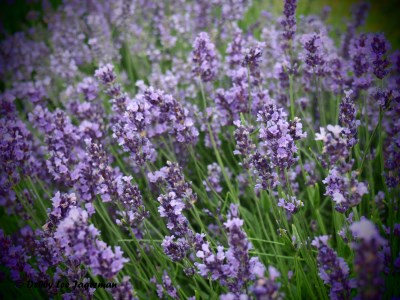 Some of the other gardens to spend time in include a fruit garden, filled with plums, pears, cherries and apricot trees; strawberries, blueberries, blackberries, blackcurrants, gooseberries, and quinces; even banana and pineapple. The "shadow garden" displays plants with varying colors and textures. There is a "five senses garden," which invites the visitor to explore with well, all five senses. In the Amerindian garden there are three 20-foot high wigwams, "made by an Indian of the Huron Village, [which] are the stars of the garden." Finally, you will enjoy some vineyards, a Japanese garden, and a Zen garden.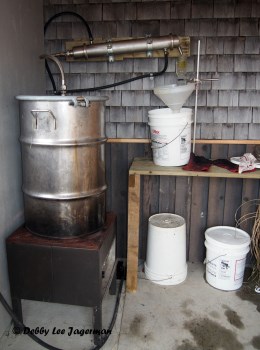 But back to the lavender. Before you venture into the lavender fields, you can catch a glimpse of the distillation process, the process of getting the essential oils out of the plants, so that the oils can be used for the many hand-made products that are sold in the store. Did you know that historically lavender has been used for perfume and medicine? Did you also know that "the lavender essential oil contains several different components. It is antiseptic, bactericidal, disinfectant, sedative, an antispasmodic, and also promotes digestion." Furthermore, "lavender is recommended for anxiety, nervousness, and insomnia, as well as to relieve rheumatism and treat respiratory infections. The essential oil, applied directly to the skin, relieves burns and insect bites."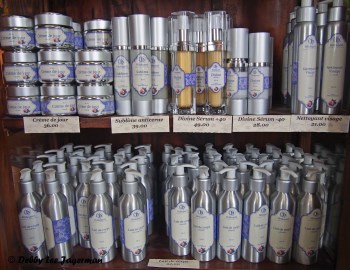 The line of lavender products, called Hildegard, sold at the store at Seigneurie de l'île d'Orléans, is free from chemical herbicides and pesticides. They have an array of aromatic products such as face creams, hand creams, body lotions, and moisturizers for women, aftershave for men, products for babies, sun and insect protection, liquid hand soaps, air fresheners, and bath salts. In addition to lavender, some products contain ingredients like goat's milk, shea butter, and neem.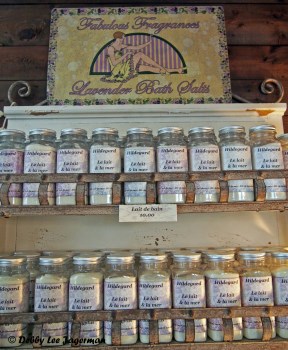 They also have quite a collection of soaps. No doubt, my favorite is the chocolate soap. They say this about their chocolate soap: "Chocolate is very rich in vitamins A, B, C, E, and contains many minerals. In addition, the chocolate contains flavonoids, an antioxidant to combat the free radicals that age the skin." I bought a bar of this chocolate soap to go along with the chocolate soap I bought at one of the chocolate shops on Île d'Orléans.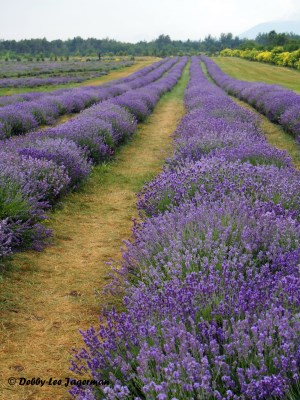 If you are interested in visiting Seigneurie de l'île d'Orléans, and experiencing the aroma of lavender on Île d'Orléans for yourself, you can explore the gardens on your own, or they offer guided tours as well.
Sweet (and aromatic) Travels!
To recap my first 17, out of 42, reasons to visit Île d'Orléans:
#1. The quiet.
#2 through #4. The chocolate shops.
#5 through #10. The wineries, cidreries, and vinaigreries.
#11 through #16. The churches.
#17. The aroma of lavender…
My walking tour of Île d'Orléans was sponsored by Tourisme Québec (Québec Original) and Québec City Tourism (Québec Region). For more information, please visit:
Tourisme Île d'Orléans
Quebéc Region
Quebéc Region-Québec City and Area-Île d'Orléans
Quebéc Original