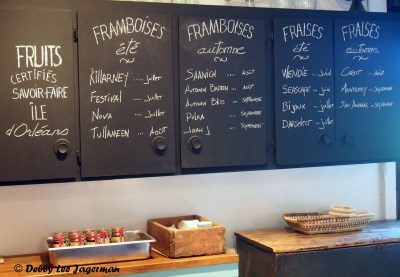 In and amongst all the delicious, sweet, and fresh strawberries I ate during my 42-mile walk along the Chemin Royal (Royal Road) that encircles Île d'Orléans, I also had the opportunity to experience some equally delicious products made out of strawberries and raspberries and blackcurrants on Île d'Orléans at two shops that specialize in these fruits. Oh my!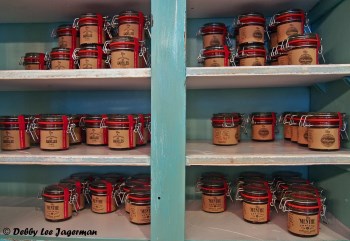 Whether the fruit that is currently in season is strawberries or raspberries, at Confiturerie Tigidou, you are in for a magical experience. Their website tells of their story (very loosely translated) that starts "once upon a time," and ends with two wizards coming back to their island after long journeys in order to follow a recipe for happiness by embarking on an exciting project for themselves, working their magic on their high quality recipes. At Confiturerie Tigidou, Catherine & Vincent produce mostly jams, mouth-watering, tasty jams – prepared the old fashioned way. Starting with the fruit that is in season, (I was there during strawberry season), they only add fresh lemon juice, and organic and fair trade sugar to the fruit as the base ingredients. And then some jams are complemented in an interesting, but extremely tasty way – by adding herbs from their garden.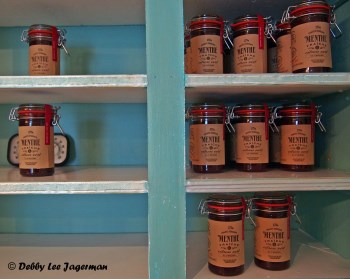 I was greeted very warmly by Catherine when I walked in the door of their store, located up a driveway, next to their home that was being renovated at the time. And next to a very cute adjoining antique museum that they were also in the midst of creating. You see, their shop is fairly new, bought about a year ago in October 2012, with the store just being opened up in June of this year. With my visit in July, I must have been amongst some of their first customers.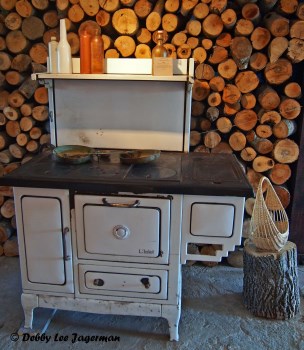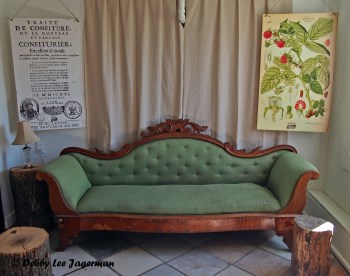 Catherine and Vincent had me sample of their delicious homemade jams. In fact they told me that everything in their store is homemade, even the labels on the jars. The first flavor I tried was strawberry and mint. Wow, my taste buds really liked this unexpected combination in a jam. And I equally enjoyed the next combination as well – strawberry, redcurrant, and basil! I would have never thought that jams could taste so good, so unique, so magical.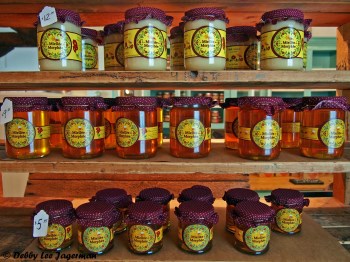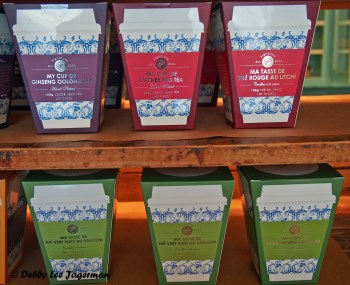 My next taste, while it was strawberries only, was an "ice jam." Cold, like a sorbet, and so full of strawberry flavor! Finally, another jam made out of strawberries, honey prepared by their neighbors, and wintergreen, a green wild berry that grows in a forest in northern Québec. Again, extremely flavorful!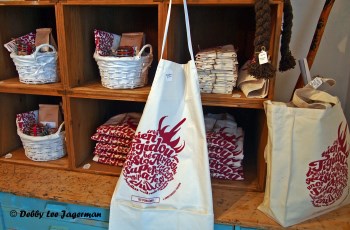 In addition to the tasty jams, Confiturerie Tigidou also sells the honey from their neighbors, a variety of teas, as well as aprons, bags, and other items with their logo. What a magical strawberry treat I had!
*****
A few days later in my trip, I visited La Ferme de Liz Ouellet. Some of their seasonal fruits, grown on their 89-acre estate, include the raspberry and the blackcurrant, a good source of vitamin C. With these fruits, they make vinegars and liquors and salad dressing and syrups and jellies and butter and mustard and spreads. Oh my!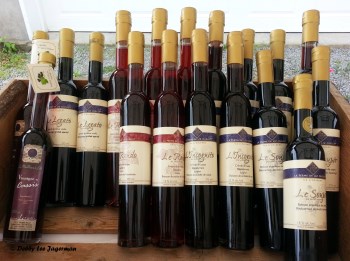 For example, they have a combination blackcurrant and raspberry jelly, a raspberry jam, a blackcurrant jelly, a blackcurrant syrup, and a blackcurrant vinegar. They also have a blackcurrant spread, and a raspberry spread, with 50% less sugar. And they even have a blackcurrant and strawberry butter. Don't the products look just delicious, especially the raspberry-colored vinaigrette?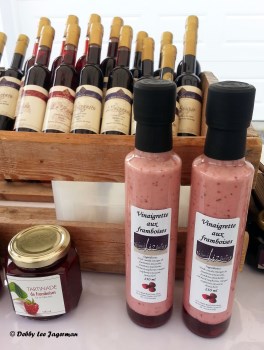 Liz and her husband also grow asparagus on their farm. Their website says this about this vegetable: "The asparagus is very demanding and requires an important investment. We must patiently wait four years after plantation before harvesting the first crop for a period of two weeks only." Wow, I didn't know that time line for growing and harvesting asparagus!
And while this time they weren't in bloom, when I was on Île d'Orléans during a previous trip, they were also growing my favorite flowers, the sunflower!
When you visit La Ferme de Liz Ouellet, you can buy baskets of raspberries already picked, or they have a raspberry field, without thorns, where you can pick your own.
So reasons #21 and #22, out of my 42 reasons to visit Île d'Orléans, (of which we are now half way through), are Confiturerie Tigidou and La Ferme de Liz Ouellet, representing magical and delicious products made out of strawberries and raspberries and blackcurrants on Île d'Orléans. Oh my!
Sweet Travels! Oh my!
To recap my first 20, out of 42, reasons to visit Île d'Orléans:
#1. The quiet.
#2 through #4. The chocolate shops.
#5 through #10. The wineries, cidreries, and vinaigreries.
#11 through #16. The churches.
#17. The aroma of lavender.
#18 and #19. Recycled Folk Art and Textile Weaving.
#20. Strawberry Season.
My walking tour of Île d'Orléans was sponsored by Tourisme Québec (Québec Original) and Québec City Tourism (Québec Region). For more information, please visit:
Tourisme Île d'Orléans
Quebéc Region
Quebéc Region-Québec City and Area-Île d'Orléans
Quebéc Original