In some ways it is surprising to me how Île d'Orléans, a small island of only 73 square miles of total surface area near Québec City, Canada, has such a rich maritime history. But then again, it is not so surprising, considering this small island is located in the middle the 1,900-mile long Saint Lawrence River. Dating back to the 1830's, one parish on Île d'Orléans, Saint-Laurent, had over twenty boat builders and a few family-owned shipyards. A visit to Parc Maritime de Saint-Laurent will take you back in time hundreds of years to experience this nautical heritage, to witness the island's naval construction industry, to learn about the history of shipyard workers and individual boat builders, and to really get a sense of the maritime history of Île d'Orléans.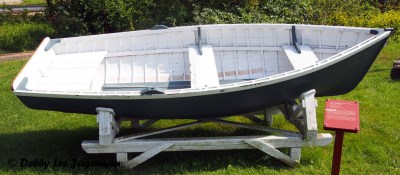 The current Parc Maritime is on the location of one such former family-owned shipyard, which was originally built in 1908. In 1911, it became Chantier Maritime de Saint Laurent, one of the largest shipyards of its time, and was one of the most important industries on Île d'Orléans. Its main operations were naval construction, which consisted of building, repairing, storing, and winterizing boats. Chantier Maritime first built sailboats, then also built schooners, and then a variety of power-driven steel and wooden ships. Boat parts, such as gas tanks, propellers, and winches, were also manufactured here. Until 1967, for nearly 60 years, this shipyard was run by a single family, the Fillions. Its remnants of this industrial operation can be seen in the current location of Parc Maritime.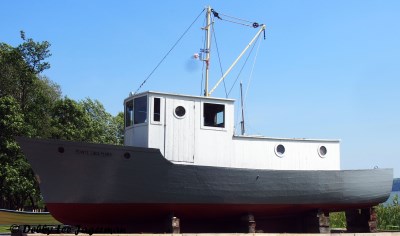 Also located on the premises of Parc Maritime is an authentic 19th century wooden rowboat shop, the Godbout Rowboat Shop, built in 1837, and used by three generations of shipwrights. The first rowboat builders settled in the village of Saint-Laurent, and until the middle of the 19th century, nearly twenty rowboat factories ("chalouperies"), built between 300 and 400 wooden rowboats ("chaloupes"), longboats, and canoes annually. The rowboats were used to travel the Saint Lawrence River, especially by people going to farmer's markets in the City of Québec. Originally up to 42 feet long, the rowboats were shortened to 15 feet in the 20th century, and then were mainly used for pleasure boats, or as lifeboats on larger vessels. The Rowboat Shop currently displays a collection of period tools, and was declared a "heritage property" by the government of Québec in 1977. While it was originally not in this location, it was relocated here to be part of Parc Maritime, as it showcases the craftsmanship of the artisans of the past.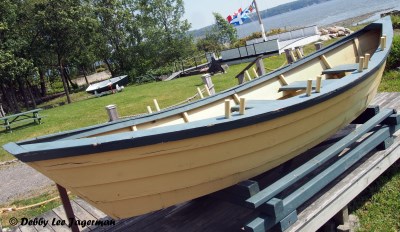 A visit to Parc Maritime de Saint-Laurent not only gives one a feel for the rich maritime history of Île d'Orléans, but one can also learn to make sailors' knots in an interactive workshop. Another interactive workshop allows one to gain knowledge on picking the right wood to build your own rowboat. Both workshops sound like fun!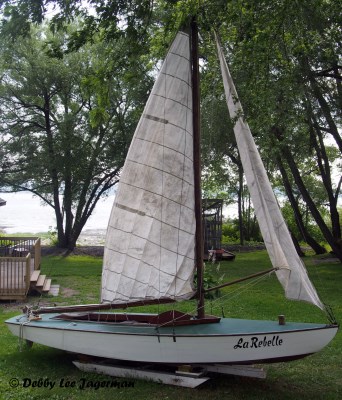 So my 30th reason, out of my 42 reasons to visit Île d'Orléans, that I discovered during my 42-mile walk around the Chemin Royal (Royal Road) that encircles the island, is Parc Maritime de Saint-Laurent. Enjoy guided tours and self-guided tours that not only talk about the maritime history of Île d'Orléans, but also explain tides, and shipbuilding techniques of the wooden rowboats. Oh, and be sure to bring a picnic lunch, as they have a shaded picnic area located right by the river with a great view.
By the way, check out my photographs of mailboxes with boats on them that I previously posted in a blog, which represent this rich maritime history of Île d'Orléans.
Sweet Travels!
Some information provided by: Parc Maritime de Saint-Laurent
Some other information provided by:
Tourism Île d'Orléans – History of Ile d'Orléans
Tourisme Île d'Orléans Tourism – The Region
To recap my first 29, out of 42, reasons to visit Île d'Orléans:
#1. The Quiet.
#2 through #4. The Chocolate Shops.
#5 through #10. The Wineries, Cidreries, and Vinaigreries.
#11 through #16. The Churches.
#17. The Aroma of Lavender.
#18 and #19. Recycled Folk Art and Textile Weaving.
#20. Strawberry Season.
#21 and #22. Strawberries, Raspberries, and Blackcurrants. Oh my!
#23. The Mailboxes.
#24 and #25. The Art in the Garden and The Garden of Arts.
#26 and #27. Procession Chapels and Roadside Crosses.
#28 and #29. Maple Syrup and Cheese.
My walking tour of Île d'Orléans was sponsored by Tourisme Québec (Québec Original) and Québec City Tourism (Québec Region). For more information, please visit:
Tourisme Île d'Orléans
Quebéc Region
Quebéc Region-Québec City and Area-Île d'Orléans
Quebéc Original