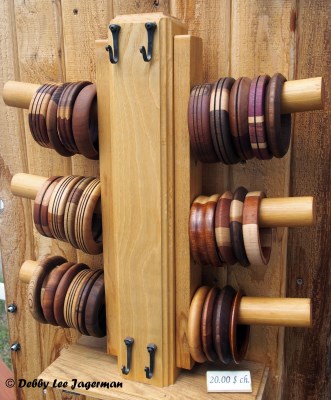 With so many cool ones to choose from, I bought the bracelet that is on the left side of the photo, second row down, the one on the far left. Made of wood, specifically mahogany from Brazil, and maple from Île d'Orléans. Woodworking craftsman Andreï Wyszinski creates his pieces using the natural colors from wood, with oils to enhance the colors, that he gathers from places all over the world.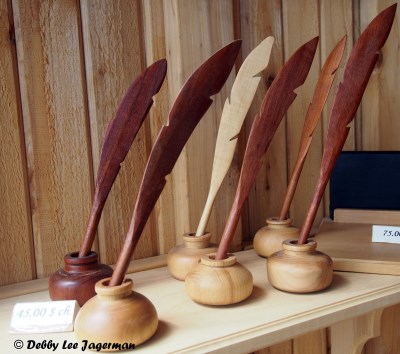 In his workshop, Le p'tit Atelier du Tour de l'Île, this furniture and cabinetmaker-designer not only uses woods such as cedar, walnut, mahogany, and maple, but also a wood species from places like Spain and South America called purpleheart. I had never heard of purpleheart wood, so in doing a quick research, I discovered that it is an extremely dense, water-resistant wood, ranked one of the hardest woods in the world. After cutting the wood and exposure to the sunlight, purpleheart eventually turns into a chocolate-purple color. Interesting!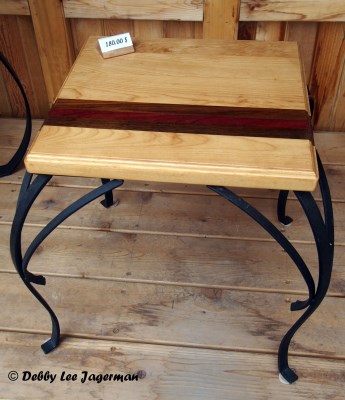 Andreï Wyszinski makes wood furniture for every room of the house, including the bathroom, and also for the garden. He creates wooden accessories, decorative objects, and items such as tables, cutting boards, coat racks, "feather fountain pens," candle holders, and of course, bracelets.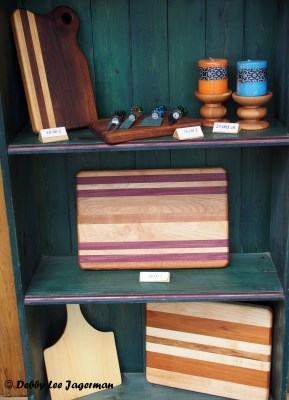 You can visit Le p'tit Atelier du Tour de l'Île in the village of Saint-Laurent on Île d'Orléans, an island near Québec City, Canada, at his centuries-old home near the church.
*****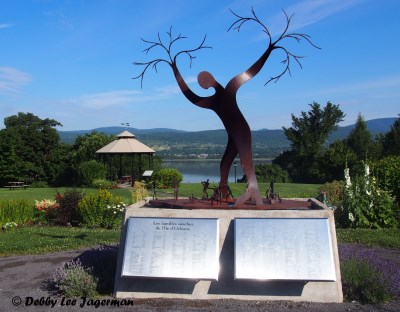 Award-winning metal-worker and master blacksmith, Guy Bel, created this 6-1/2 foot high outdoor sculpture, made of rusting steel, located at the Parc Des Ancêtres de l'Île d'Orléans, which commemorates the genealogy and centuries-old ancestral heritage of Île d'Orléans. Along with almost a dozen smaller sculptures less than a foot tall of people sitting, standing, and working, Le Mémorial des Familles Souches, The Memorial to the Founding Families, honors the 300 founding families of Île d'Orléans, who were "pioneers who broke new ground…and a legacy to future generations."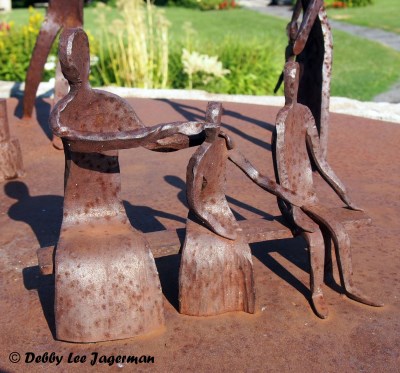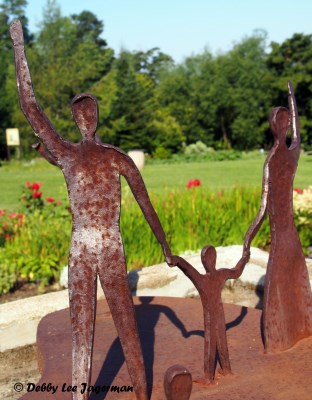 The plaque describing this sculpture says this about Guy Bel: "The craftsman…has succeeded in illustrating the continuity of the invisible thread linking the ancestors, rooted deep within the land, to their descendants, who have spread throughout the New World."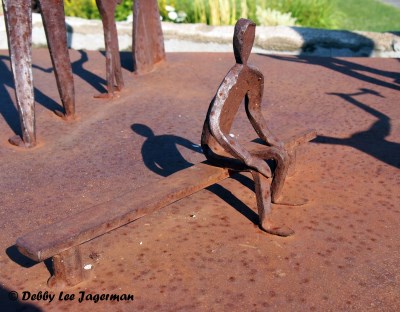 In his museum, boutique, and workshop, La Forge à Pique-Assaut, Guy Bel and his team create both decorative and useful pieces out of metals, like wrought iron and steel, using both traditional techniques, the hammer and anvil, and modern techniques. Furniture, candle holders, fireplace accessories, fences, gates, thematic sculptures, staircase banisters, wind vanes, flower vases, and even hardware like handles, deadbolts, and hinges are featured throughout the shop.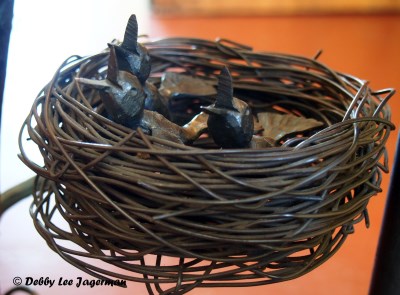 The museum provides information about blacksmithing and ferrous metals, displays a traditional collection of antique tools, and one can watch the artisans heat iron to its desired temperature.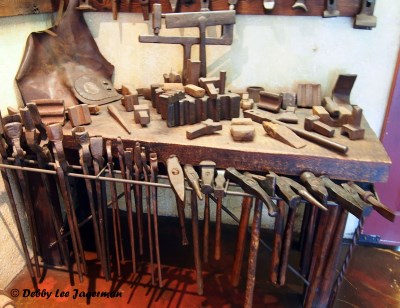 There is a staircase railing at La Forge à Pique-Assaut, complete with birds in their nests and bunches of grapes, which represents "more than 450 hours of work [that] proudly welcomes visitors."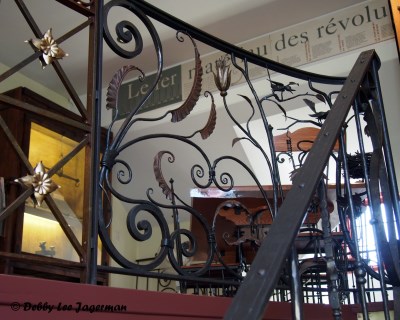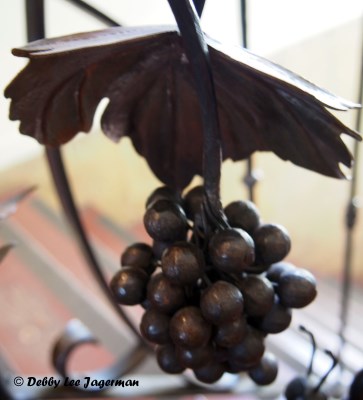 So my 31st and 32nd reasons, out of my 42 reasons to visit Île d'Orléans that I enjoyed during my 42-mile walk on Chemin Royal (Royal Road) which encircles the island, are the woodworking and blacksmithing on Île d'Orléans. Including seeing all this beautiful art, learning about the techniques and history, and buying my bracelet.
Sweet Travels!
To recap my first 30, out of 42, reasons to visit Île d'Orléans:
#1. The Quiet.
#2 through #4. The Chocolate Shops.
#5 through #10. The Wineries, Cidreries, and Vinaigreries.
#11 through #16. The Churches.
#17. The Aroma of Lavender.
#18 and #19. Recycled Folk Art and Textile Weaving.
#20. Strawberry Season.
#21 and #22. Strawberries, Raspberries, and Blackcurrants. Oh my!
#23. The Mailboxes.
#24 and #25. The Art in the Garden and The Garden of Arts.
#26 and #27. Procession Chapels and Roadside Crosses.
#28 and #29. Maple Syrup and Cheese.
#30. Parc Maritime/Maritime History.
My walking tour of Île d'Orléans was sponsored by Tourisme Québec (Québec Original) and Québec City Tourism (Québec Region). For more information, please visit:
Tourisme Île d'Orléans
Quebéc Region
Quebéc Region-Québec City and Area-Île d'Orléans
Quebéc Original