"If chocolate were bad, it would have lost its appeal a long time ago."
– Edouard de Pomiane, French doctor and gourmet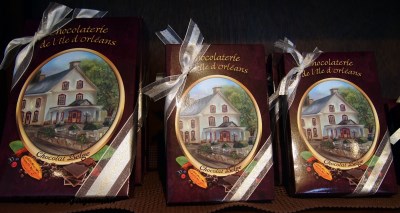 Do you love chocolate as much as I do? Then you're in luck when you visit Île d'Orléans, an island near Québec City, Canada! While you can get some fabulous desserts at restaurants throughout the island, just wait till you walk into the three sweet and delicious chocolate shops of Île d'Orléans.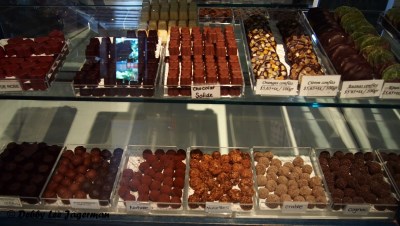 Located in a 250 year old house, at one end of the island in the parish of Sainte-Pétronille, is the Chocolaterie de l'Île d'Orléans. Making chocolate since 1988, using quality raw materials imported from Belgium, and locally handcrafted, this place is heaven. They have so many choices in what they offer, you could spend days just sampling them all.
To start with, their long list of small chocolates, sold individually or in boxes, includes those covered in milk chocolate, dark chocolate, or white chocolate, as well as a flavorful mix of truffles. The samples I tried were filled with flavors such as lychee, orange, salted caramel, and blueberry. Yum! Other flavors of their small chocolates include moka, cherry, butterscotch, solid chocolate, and blackcurrant, just to name a few.
The Chocolaterie de l'Île d'Orléans' chocolate bars are sold in two sizes, large and small. Some of the large bars have no sugar added, and some of the small bars have nuts or maple added. I tried the Maple Chunks & Dark Chocolate bar, and I tell you it was pure torture to have to sample all this chocolate in order to write this blog. Not!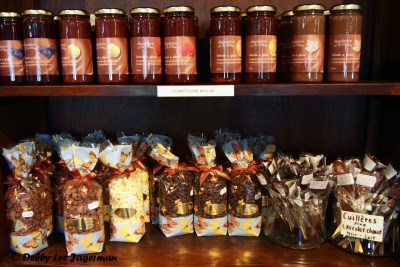 Chocolaterie de l'Île d'Orléans also sells fun chocolates shaped like cigars, lollipops, and elegant roses. If you thought that wasn't enough, a great item to take home is their dark chocolate spreads, which are flavored with blueberry, raspberry, pear, strawberry, maple caramel, or orange. Then there is the hot chocolate, which well, I have been enjoying at home, including as I am writing this blog! Life's rough.
Located in the same building upstairs as the Chocolaterie is a restaurant, Café Resto, to get some food (and ice cream, see below) to go along with your dessert. An outdoor garden to sit and enjoy all this is just perfect.
Conveniently located on the opposite side of the island in the parish of Saint François, just about 21 miles from the Chocolaterie de l'Île d'Orléans, is a smaller version of this exact same Chocolaterie. Housed in a building built in 1867, this smaller shop is still just as big on the same indulgent chocolates.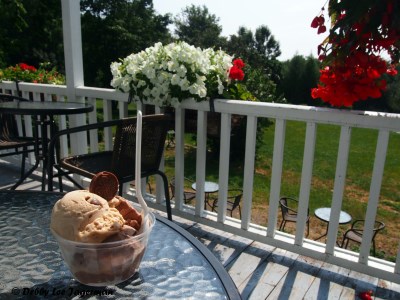 It was here I had tried the locally homemade ice cream, which is also located in the main shop upstairs in Café Resto. In the summer, both Chocolateries offer 24 flavors of ice cream and sherbet. Of course I had some ice cream, the double chocolate, and hazelnut-chocolate flavors. I enjoyed this while sitting outside on their deck in the warm sun overlooking a garden. I was told that this chocolate shop sells 30,000 pounds of chocolate a year! That's a lot of chocolate!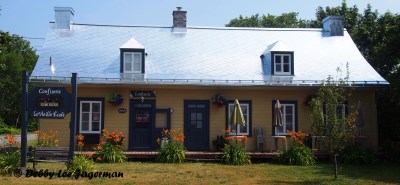 Just when you thought you couldn't eat any more chocolate, pretty much right next door to the Chocolaterie de l'Île d'Orléans in the parish of Saint François, is the Confiserie de la Vieille École, loosely translated as "Confectionery of the Old School." Their tag line is "gâteries pour petits and grands," treats for the little and big. Not only does this chocolate shop have wonderful chocolate, but the building it is located in has some great history. Originally built in 1830, it was a school (hence the name of the shop), and today it is considered a historical monument. There is even a display of its history inside, and some old school desks on the outside, so it is like having a mini-museum right next to the chocolate.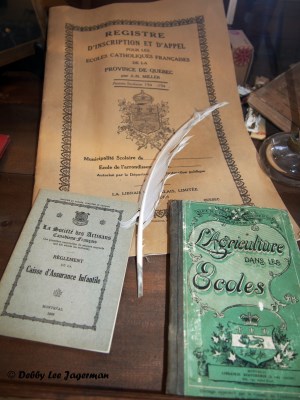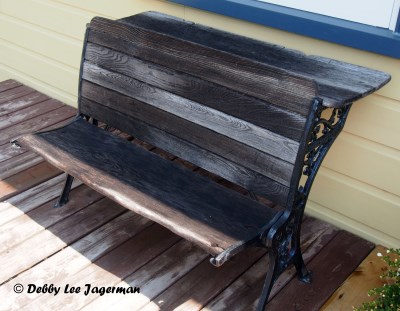 For the past two years, Confiserie de la Vieille École is the current owner's home, as well as her chocolate factory, where she makes her handmade treats, including fudge, and marshmallows covered with milk or dark chocolate, with or without nuts, which I indulged in, after that ice cream. Like I said, life's rough.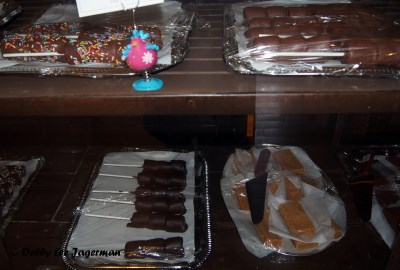 I asked the current owner how she learned to make her treats. She said she took a few classes to learn to make the basics, and then uses her imagination for the rest.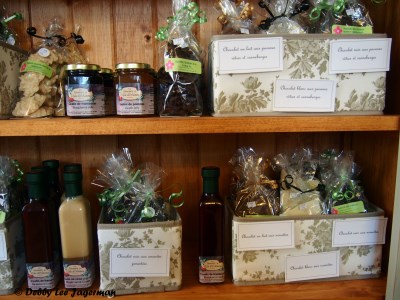 So there you have it, three chocolate shops of Île d'Orléans. These are my reasons #2, #3, and #4 of my 42 reasons to visit Île d'Orléans.
And if you really do love chocolate as much as I do, you will also love their chocolate soap, a soap that smells like chocolate, that I have been using since I returned from my walking tour of Île d'Orléans, where I walked along the the 42-mile Chemin Royal (Royal Road) that encircles the island.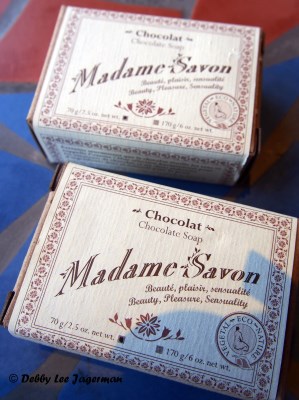 Sweet (very sweet) Travels!
My walking tour of Île d'Orléans was sponsored by Tourisme Québec (Québec Original) and Québec City Tourism (Québec Region). For more information, please visit:
Chocolaterie de l'Île d'Orléans
Confiserie de la Vieille École
Tourisme.iledorleans.com
Quebecregion.com
Quebecregion.com/en/quebec-city-and-area/ile-d-orleans
QuebecOriginal.com