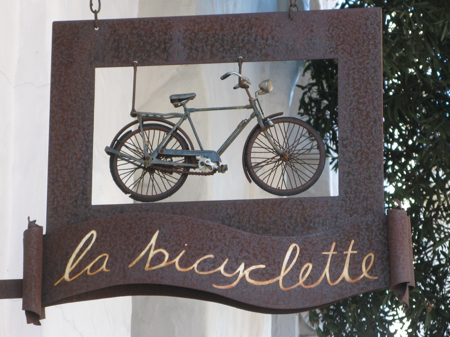 After my hearty biscuits-and-gravy breakfast, I was craving lighter California cuisine. So as I continued my road trip down the California coast, I was glad to meet up with friends Cynthia and Gloria, who suggested lunch at La Bicyclette, a sunny French-inspired bistro in Carmel-by-the-Sea.
The food wasn't overly fancy or precious (as this somewhat touristy town can be), but everything we sampled was fresh and delicious.
Arugula salad with apples, goat cheese, and hazelnuts.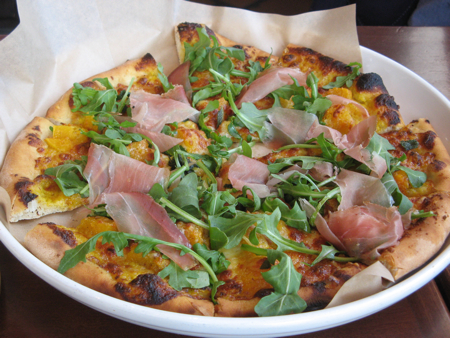 Butternut squash and prosciutto pizza.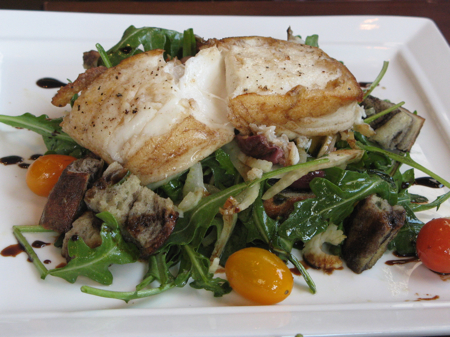 Halibut with olive croutons.
What could be finer than a sunny afternoon and lunch with old friends in a cute seaside town?
If you go…
La Bicyclette is at the corner of Dolores and 7th, one block off Ocean Avenue, in Carmel-by-the-Sea, California, 831-622-9899.
About the "Hit the Road Hungry" Road Trip
I'm doing a solo road trip from Vancouver to Los Angeles, working with a company called Hit The Road that pairs people who want to take road trips with people who need their cars moved. I'm delivering a 1998 Honda Civic for its owners who are moving from British Columbia to southern California, and I'm eating my way down the west coast.
The previous posts in this series are:
When Plans for Pie Go Awry
Taco Craving
Pok Pok in Portland
Living The Serious Coffee Lifestyle in Portland
Bites By Bike, with Portland's Pedal Bike Tours
Taste of Korea: A Taste of the Food Cart Scene in Portland
I Should Have Had the Deep-Fried Pickles
Winding Through the Redwood Forest
Ten Thousand Buddhas, One Highway Patrolman, But No Lunch
Time for Biscuits and Gravy!
I hope you'll continue to follow along as I "Hit the Road Hungry!"
Tasty Travels!
Carolyn
Photo credits:
Photos © Carolyn B. Heller