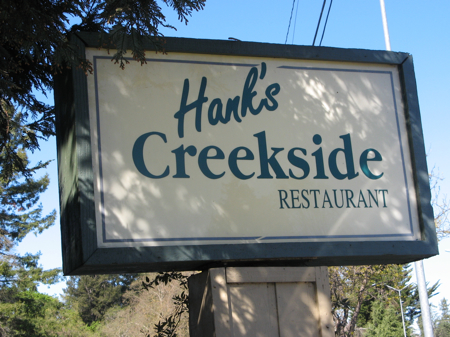 It's Day #4 of my "Hit The Road Hungry" road trip, and I'm hankering for a good old-fashioned, all-American, road food breakfast.
You know the kind: where the gruffly-cheerful waitress keeps your coffee cup filled as you chow through a big plate of eggs, bacon, and — most important — biscuits and gravy (though in the South a mess of grits will also do).
Fortunately, an old family friend lives along my route, as I'm continuing south on California Highway 101, and she suggests meeting up for breakfast at Hank's Creekside, an old-timey coffee shop near her home in Santa Rosa.
And yes, they have biscuits and gravy!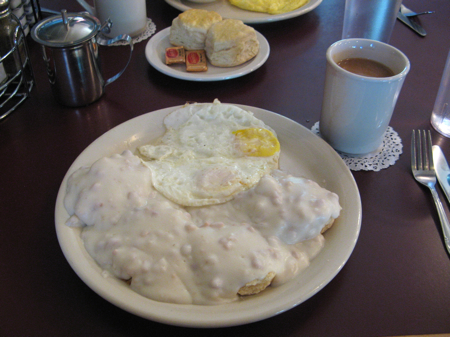 (I know it looks like a plate of white mush, but it was really tasty.)
Can anyone recommend a favorite biscuits-and-gravy spot? Please leave a comment and share.
About the "Hit the Road Hungry" Road Trip
I'm doing a solo road trip from Vancouver to Los Angeles, working with a company called Hit The Road that pairs people who want to take road trips with people who need their cars moved. I'm delivering a 1998 Honda Civic for its owners who are moving from British Columbia to southern California, and I'm eating my way down the west coast.
The previous posts in this series are:
When Plans for Pie Go Awry
Taco Craving
Pok Pok in Portland
Living The Serious Coffee Lifestyle in Portland
Bites By Bike, with Portland's Pedal Bike Tours
Taste of Korea: A Taste of the Food Cart Scene in Portland
I Should Have Had the Deep-Fried Pickles
Winding Through the Redwood Forest
Ten Thousand Buddhas, One Highway Patrolman, But No Lunch
I hope you'll continue to follow along as I "Hit the Road Hungry!"
Tasty Travels!
Carolyn
Photo credits:
Photos © Carolyn B. Heller