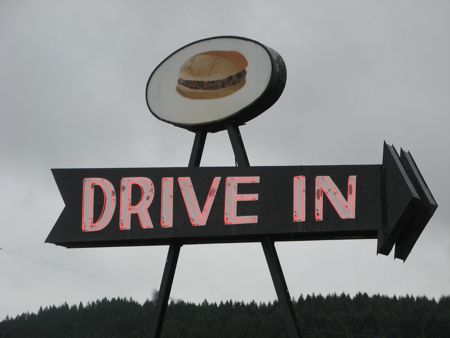 How can you not stop when you see a sign like this?
As I was cruising down Interstate 5 south of Portland, heading for the California border, I pulled off at Exit 148 in the hamlet of Rice Hill and into the driveway of K&R Drive Inn. It's an old-time joint that's been serving up burgers and ice cream since 1970.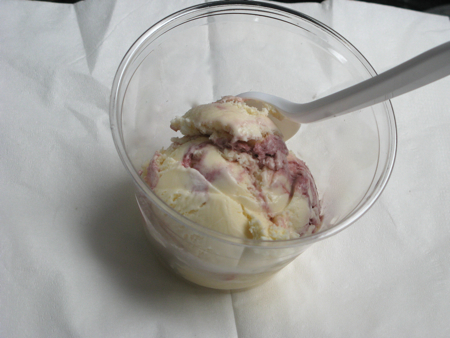 Hoping for taste of summer, despite the wintery chill and intermittently heavy rain, I ordered a mini cup of blackberry ice cream. Their ice cream comes from Umpqua Dairy, based a little further south in Roseburg, Oregon.
It's creamy and tasty enough, but it wasn't berry enough to conjure up August (and I'm afraid that the bright fresh flavors of Vancouver's Bella Gelateria have spoiled me forever!).
Maybe I should have had the deep-fried pickles… 🙂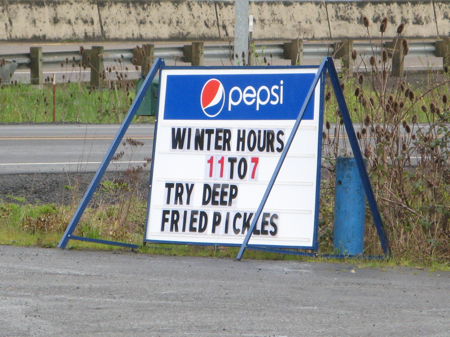 About the "Hit the Road Hungry" Road Trip
I'm doing a solo road trip from Vancouver to Los Angeles, working with a company called Hit The Road that pairs people who want to take road trips with people who need their cars moved. I'm delivering a forest green 1998 Honda Civic for its owners who are moving from British Columbia to southern California, and I'm eating my way down the west coast.
The previous posts in this series are:
When Plans for Pie Go Awry
Taco Craving
Pok Pok in Portland
Living The Serious Coffee Lifestyle in Portland
Bites By Bike, with Portland's Pedal Bike Tours
Taste of Korea: A Taste of the Food Cart Scene in Portland
I hope you'll continue to follow along as I "Hit the Road Hungry!"
Tasty Travels!
Carolyn
Photo credits:
Photos © Carolyn B. Heller