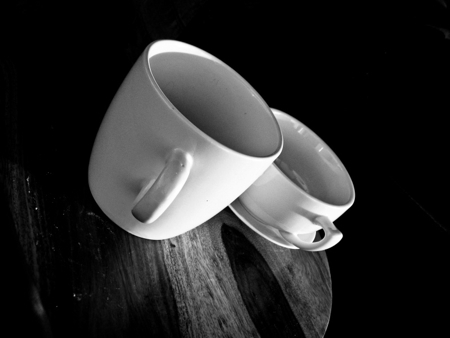 I knew that Portland was a serious coffee town. But before I even got started for the day, I got an up-close-and-personal look at the serious coffee lifestyle.
On the first night of my "Hit the Road Hungry" solo road trip from Vancouver to Los Angeles, I stayed in Portland, Oregon, with an AirBnB host. In case you've never tried AirBnB, it's a service that lets you find a bed or room in a private home, or rent a vacation apartment or house.
My host Taizz welcomed me to her comfortable Northeast Portland home, showed me to my (private) room, and pointed out the (shared) bath. Then we talked about breakfast.
Taizz often cooks a hot breakfast for her guests, but since I was heading out early in the morning for a food tour — details to be revealed in a future post! — all I wanted was a cup of coffee and a quick bite.
What I got was a fascinating introduction to cold-brewed coffee.
Taizz roasts her own coffee beans, she told me, and then cold-brews her coffee, letting the beans sit in fresh water for 24 hours. The resulting mixture becomes a kind of concentrated coffee "starter."
While most of the cold-brew coffee recipes I subsequently found suggest that the process makes excellent iced coffee, Taizz uses the cold-brew starter for a hot cup. She said that it makes a much smoother, less bitter drink.
In the morning, I followed her instructions, pouring two ounces of coffee concentrate into a mug and adding boiling water.
Voilà, smooth and delicious fresh coffee.
Sometimes, road trips serve up the most delectable surprises!
Have you made hot coffee using this cold-brew method? Or have you found a coffee shop that does? Please leave a comment and share your coffee tips! And if you want to try cold brewing coffee at home, America's Test Kitchen has a detailed how-to.
About the "Hit the Road Hungry" Road Trip
I'm doing a solo road trip from Vancouver to Los Angeles, working with a company called Hit The Road that pairs people who want to take road trips with people who need their cars moved. I'm delivering a forest green 1998 Honda Civic for its owners who are moving from British Columbia to southern California, and I'm eating (and coffee-drinking) my way down the west coast.
The previous posts in this series are:
When Plans for Pie Go Awry
Taco Craving
Pok Pok in Portland
I hope you'll follow along as I "Hit the Road Hungry!"
Tasty Travels!
Carolyn
Photo credits:
Coffee cups photo by Steve A Johnson (flickr)