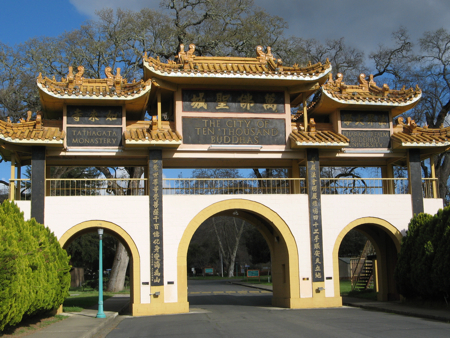 What does it say about my karma if the California Highway Patrol pulls me over in the driveway of a Buddhist monastery?
I've rolled off Highway 101 near the northern California town of Ukiah, hoping to stretch my legs at the City of Ten Thousand Buddhas, a monastery built on the grounds of a former psychiatric hospital on the edge of town.
Wrapped up in otherworldly thoughts, I apparently notice too late that the speed limit in this world has abruptly dropped to 30 mph, and suddenly, there's a flashing light behind me.
I don't believe in divine intervention, but I'm grateful to whatever spirit moved the officer to wave me on with only a stern warning to watch my speed.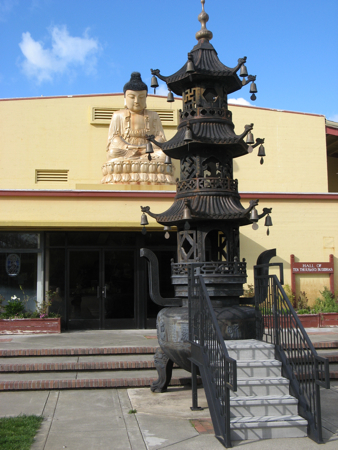 Slightly rattled by my encounter with the patrolman, I wander through the monastery campus, past streets with names like Mindfulness Avenue and Patience Way.
Despite the temple's name, I'm still surprised when I enter the blocky beige building and tiptoe into the silent sanctuary. It's covered top to bottom with small golden Buddha statues.
Thousands of them.
Thousands and thousands and thousands of delicate gold Buddhas.
(I wish I could have taken a photo, but it felt disrespectful, with two people kneeling in prayer. You can get the general idea of the Buddha statues in the temple interior here and here.)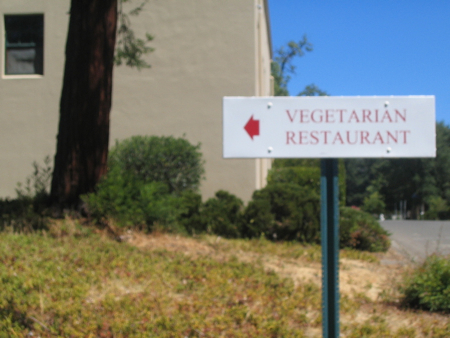 Of course, this story has a food angle, too. The earnest young man at the temple information desk tells me that I've arrived too late in the afternoon for the vegetarian lunch that is served to visitors every day (except Tuesday). He says he hopes that on my next visit, I will come in time for a meal.
When I say that yes, I'd like to return to eat, he touches his palms together, ever so slightly bows his head, and far more gently than the highway patrolman, sends me on my way.
About the "Hit the Road Hungry" Road Trip
I'm doing a solo road trip from Vancouver to Los Angeles, working with a company called Hit The Road that pairs people who want to take road trips with people who need their cars moved. I'm delivering a forest green 1998 Honda Civic for its owners who are moving from British Columbia to southern California, and I'm eating my way down the west coast.
The previous posts in this series are:
When Plans for Pie Go Awry
Taco Craving
Pok Pok in Portland
Living The Serious Coffee Lifestyle in Portland
Bites By Bike, with Portland's Pedal Bike Tours
Taste of Korea: A Taste of the Food Cart Scene in Portland
I Should Have Had the Deep-Fried Pickles
Winding Through the Redwood Forest
I hope you'll continue to follow along as I "Hit the Road Hungry!"
About WanderFood Wednesday
Every Wednesday, you can share a photo or post about own food adventures as part of the WanderFood Wednesday blog carnival. Here's how:
Post a food photo on your site.
Add a brief description about the photo — or a longer food-focused post — and include a link to WanderFood Wednesday.
Add your blog name and post title to the "Mr. Linky" form below, with a link directly to your post (not to your main blog). That's it!
[mrlinky owner=wanderfood postid=01May2012 meme=2888]
Tasty Travels!
Carolyn
Photo credits:
Ten Thousand Buddhas Photos © Carolyn B. Heller
Vegetarian Restaurant Photo by spareorgan (flickr)