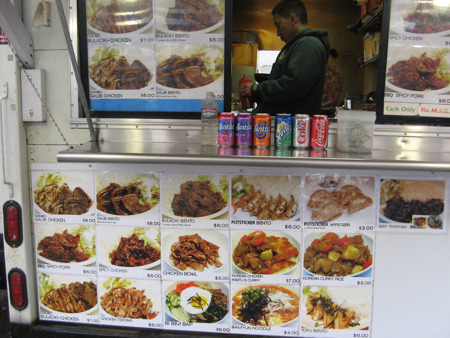 So many food carts, so little time…
I really didn't need to eat lunch before I left Portland, since I had spent the morning on the Bites by Bike food tour, with Pedal Bike Tours.
But how could I leave the city without sampling at least one of the famous food carts?
Thanks to a tip from Pedal Bike Tours' founder Todd Roll, I decided that my "taste of Portland" should be the bibimbap from Taste of Korea, a cart in the food truck "pod" at SW 3rd and Stark.
Highly recommended!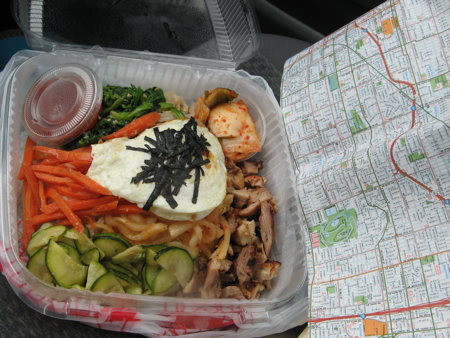 About the "Hit the Road Hungry" Road Trip
I'm doing a solo road trip from Vancouver to Los Angeles, working with a company called Hit The Road that pairs people who want to take road trips with people who need their cars moved. I'm delivering a forest green 1998 Honda Civic for its owners who are moving from British Columbia to southern California, and I'm eating my way down the west coast.
The previous posts in this series are:
When Plans for Pie Go Awry
Taco Craving
Pok Pok in Portland
Living The Serious Coffee Lifestyle in Portland
Bites By Bike, with Portland's Pedal Bike Tours
I hope you'll continue to follow along as I "Hit the Road Hungry!"
Tasty Travels!
Carolyn
Photo credits:
Photos © Carolyn B. Heller