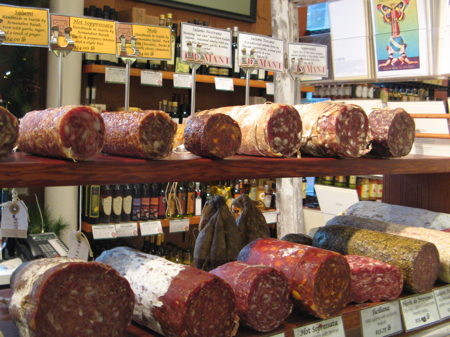 The one trouble with a road trip is that you end up spending a lot of time sitting in the car. So when I found out that Pedal Bike Tours in Portland offers Bites By Bike, a food tour by bicycle, I thought it would be an excellent way to get a little exercise, while learning something about the Portland food scene.
The Bites by Bike tours typically start at 9 am and run about 3 1/2 hours, making six stops to eat in downtown Portland and the Pearl District. Since I needed to get across Oregon to the California border before dark (on Day 2 of my Vancouver-to-LA road trip), the Pedal Bike team arranged a condensed 90-minute version of their foodie ride.
It was pouring rain when I met my guide, Jason, at the Pedal Bike Tours downtown office, so both Jason and I suited up in the company's brilliant green rain ponchos and matching helmets, and off we went.
Our first stop was World Cup Coffee, a cool coffee shop that also roasts their own beans, where we got a behind-the-scenes coffee geek tour of their roasting operation. Even though I had just learned about cold-brewed coffee from my AirBnB host, I learned even more about roasting and brewing coffee here. We drank coffee as well; mine was a delicious americano.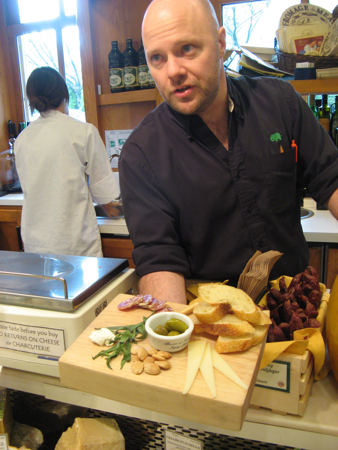 Stop 2: Elephants Delicatessen, a gourmet shop and cafe, where I got a crash course in locally-made Oregon cheeses, learned about the salami and other charcuterie that the deli makes in-house and sources from other regional providers (that's a salami close-up at the top of the page), and sampled from a platter of cheese, meats, olives, and almonds. Elephants would be a great spot to pick up a sandwich or provisions for a picnic.
Normally, the tour continues to a bakery, a pizzeria, and either a Thai food cart or the Portland Farmer's Market, but my ride went right to the sweet finale: Cacao, a chocolate shop. Co-owner Jesse Manis gave us a tour of the shop's products — chocolates from near and far — and we sampled their decadently rich drinking chocolates. The regular dark would be an excellent drink for chocolate purists, but I also loved the dark chocolate gently spiced with hints of ginger and chili.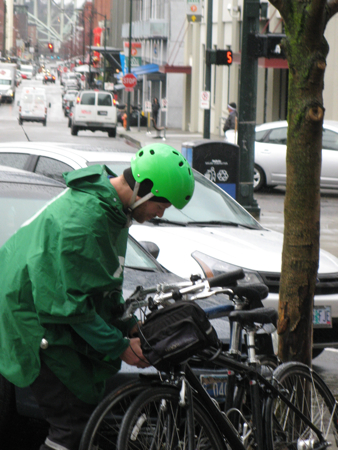 Overall, the cycling on this tour was quite easy, rain and all (here's a rainy-grainy pic of my super-cheerful guide Jason sporting his super-cool green rain gear). This tour is more about the food than about a hard-core biking experience — not that that's a problem for me! Yet in a city where cyclists are ubiquitous, touring by bike — and sampling local bites along the way — was a great way to feel like a local, if only for a couple of hours.
About the "Hit the Road Hungry" Road Trip
I'm doing a solo road trip from Vancouver to Los Angeles, working with a company called Hit The Road that pairs people who want to take road trips with people who need their cars moved. I'm delivering a forest green 1998 Honda Civic for its owners who are moving from British Columbia to southern California, and I'm eating my way down the west coast.
The previous posts in this series are:
When Plans for Pie Go Awry
Taco Craving
Pok Pok in Portland
Living The Serious Coffee Lifestyle in Portland
I hope you'll follow along as I "Hit the Road Hungry!"
About WanderFood Wednesday
Every Wednesday, you can share a photo or post about own food adventures as part of the WanderFood Wednesday blog carnival. Here's how:
Post a food photo on your site.
Add a brief description about the photo — or a longer food-focused post — and include a link to WanderFood Wednesday.
Add your blog name and post title to the "Mr. Linky" form below, with a link directly to your post (not to your main blog). That's it!
[mrlinky owner=wanderfood postid=24Apr2012 meme=2888]
If you go…
Pedal Bike Tours runs the Bites By Bike Tour daily at 9 am; the price is $69 per person. They also offer several other cycle tours of Portland and vicinity and rent bikes if you want to explore on your own.
Tasty Travels!
Carolyn
Photo credits:
Photos © Carolyn B. Heller
Pedal Bike Tours hosted my trip. My opinions — and my appetites — are my own.