Road Trip Lesson 1: When a car crashes into the pie shop, you settle for a vegetable focaccia.
Don't worry — it wasn't my car. But here's what happened:
Perhaps it's my midwestern roots, but to me, pie is the quintessential American road trip food. So when I set out from Vancouver, on Day 1 of my west coast road trip, I decided that my first stop, as soon as I crossed the U.S. border, should be for a slice of pie.
On a tip from Anna Roth, author of the road food guide West Coast Road Eats, I detoured off I-5 into Washington's rural Skagit Valley south of Bellingham, where the flat, green cow pastures stretch out far behind the double wides.
Destination: the Farm to Market Bakery in the one-street town of Bow.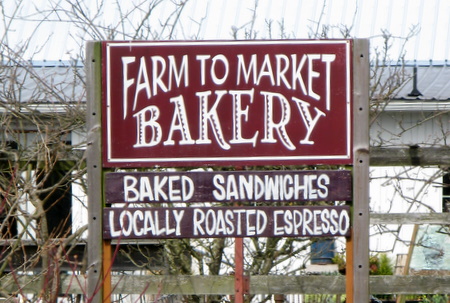 Imagine my dismay when I pulled up in front of the little wooden house that normally houses the bakery and found it full of a crew busily sawing and hammering — but not baking.
I was so disappointed, in fact, as I stood out front, that I actually exclaimed — to no one in particular — "You're closed! How can you be closed?!?"
Which prompted a jeans-clad gentleman who seemed deep in business on his cell phone to pause and explain, "A car ran into the shop. We're not exactly doing spring cleaning here…"
Sigh.
With stomach rumbling, I began wandering down the street, hoping for some alternate sweet sustenance, when I saw the "Open" sign at the Breadfarm. How can such a tiny town have not one, but two, bakeries? (And there's even a gourmet shop, too, called "Slough Food!")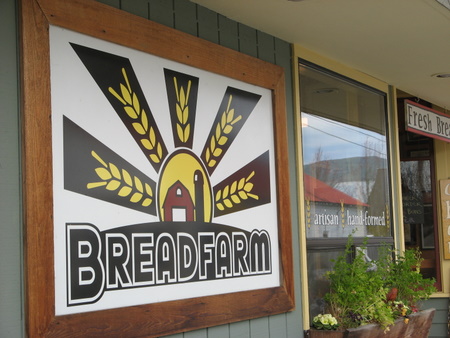 Alas, the Breadfarm doesn't make pie, but inside this wonderfully yeasty-smelling shop, they do make a vegetable focaccia, loaded with olives, onions, and cheese.
It wasn't pie. But it was delicious.
About the "Hit the Road Hungry" Road Trip
I'm doing a solo road trip from Vancouver to Los Angeles, working with a company called Hit The Road that pairs people who want to take road trips with people who need their cars moved. I'm delivering a spiffy forest green 1998 Honda Civic for its owners who are moving from British Columbia to southern California. I've got five days to make the trip — and eat my way down the west coast. I hope you'll follow along as I "Hit the Road Hungry!"
About WanderFood Wednesday
If you're new to WanderFood Wednesday, here's the scoop. Every Wednesday, you can share a photo or post about own food adventures as part of the WanderFood Wednesday blog carnival. Here's all you need to do:
Post a food photo on your site.
Add a brief description about the photo — or a longer food-focused post — and include a link to WanderFood Wednesday.
Add your blog name and post title to the "Mr. Linky" form below, with a link directly to your post (not to your main blog). That's it!
[mrlinky owner=wanderfood postid=10Apr2012 meme=2888]
Tasty Travels!
Carolyn
Photo credits:
Apple pie photo by scottfeldstein (flickr)
Other photos © Carolyn B. Heller