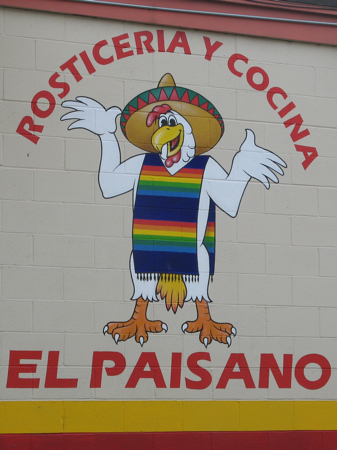 I don't know how many visitors to Seattle find their way to Rosticeria y Cocina El Paisano in the White Center neighborhood southwest of downtown, but I figured this was my chance.
After my abortive pie stop on the first day of my "Hit the Road Hungry" road trip, I was passing through Seattle at the inconvenient-for-lunch hour of 3 o'clock. But wouldn't that be a perfect time for an afternoon taco stop, especially for a Mexican food-deprived Vancouverite?
At this neighborhood taqueria, the brick on the walls and the red leather on the booths may be fake, but the carnitas tacos are the real thing — handmade corn tortillas topped with a pile of pork, chopped onions, and fresh cilantro. You can embellish your tacos with a trio of increasingly spicy salsas, from the mild pico de gallo, to the hotter herbaceous verde, and the more fiery roja.
With a towering glass of creamy horchata to cool the heat, I'm back in my car — my taco craving at least temporarily sated.
If you go:
Rosticeria y Cocina El Paisano is at 9615 15th Avenue SW., Seattle, 206-763-0368. If you were driving between downtown and Sea-Tac airport, it would not be out of the question to detour for a taco or two.
About the "Hit the Road Hungry" Road Trip
This post is part of the "Hit the Road Hungry" series, chronicling my solo Vancouver-to-Los Angeles road trip, working with a company called Hit The Road that pairs people who want to take road trips with people who need their cars moved. I'm delivering a 1998 Honda Civic for its owners who are moving from British Columbia to southern California. I've got five days to make the trip — and eat my way down the west coast. The previous post in this series is When Plans for Pie Go Awry.
Tasty Travels!
Carolyn
Photo credits:
Photos © Carolyn B. Heller