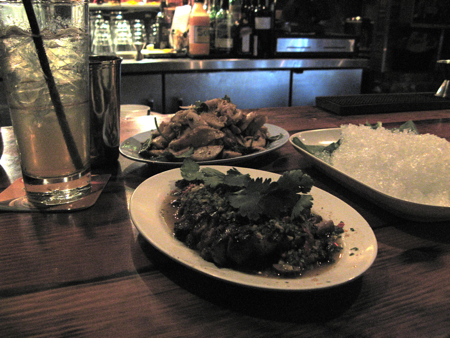 The New York Times has been there. Bon Appetit, Food & Wine, and Gourmet (may she rest in peace) have been there, too. And they all tossed around accolades like "Best Thai Restaurant in the United States."
So with just one evening for dinner in Portland (on the first day of my "Hit the Road Hungry" road trip from Vancouver to Los Angeles), I figured that even if I was a little late to the party, I had to make a pilgrimage there as well.
"There" is Pok Pok, Portland's highly praised Thai restaurant tucked away in the city's southeast district. Fancy, it isn't–the restaurant looks like a Chiang Mai night market stall writ large, with outdoor (and indoor) tables and a giant charcoal grill.
The whole Pok Pok experience is very sensual, starting with the fizzy "drinking vinegars," their signature non-alcoholic drink. The tamarind variety I chose wasn't as sour as I expected — more like a tangy, gently fruity seltzer. It provided a cooling counterpart to the spicy dishes to come.
At Pok Pok, you eat (mostly) with your hands, scooping little balls of sticky rice out of their cute wicker baskets. With the bartender's guidance, I opted for the fiery wild mushroom salad and the charcoal-grilled "boar collar." Accompanying the pork was a plate of fresh raw mustard greens, buried in ice — to keep them fresh, the waiter explained, recommending that you alternate bites of crisp greens with chili-fired meat. Both dishes were the perfect Thai mix of spicy, sour, and ever-so-slightly sweet.
If I came back to Pok Pok again — and I would in a heartbeat — I'd try to bring friends. Most dishes are designed to share, and as a solo diner, despite the excellent ordering suggestions that the bartender provided, it was difficult to create a fully balanced meal, with the proper Thai combinations of meat and vegetables, sweet and sour, bitter and hot. And of course, with more people, you can sample a lot more dishes.
Save me a bar stool, Pok Pok! I've got a car to deliver now, but one of these days, I'll need to get my hands back on your sticky rice.
About the "Hit the Road Hungry" Road Trip
I'm doing a solo road trip from Vancouver to Los Angeles, working with a company called Hit The Road that pairs people who want to take road trips with people who need their cars moved. I'm delivering a forest green 1998 Honda Civic for its owners who are moving from British Columbia to southern California, and I'm eating my way down the west coast.
The previous posts in this series are When Plans for Pie Go Awry and Taco Craving. I hope you'll follow along as I "Hit the Road Hungry!"
About WanderFood Wednesday
Every Wednesday, you can share a photo or post about own food adventures as part of the WanderFood Wednesday blog carnival. Here's how:
Post a food photo on your site.
Add a brief description about the photo — or a longer food-focused post — and include a link to WanderFood Wednesday.
Add your blog name and post title to the "Mr. Linky" form below, with a link directly to your post (not to your main blog). That's it!
[mrlinky owner=wanderfood postid=17Apr2012 meme=2888]
If you go…
Pok Pok, at 3226 S.E. Division St., Portland, Oregon, 503-232-1387, is open daily 11:30am-10pm.
Tasty Travels!
Carolyn
Photo credits:
Pok Pok photo © Carolyn B. Heller