You've probably seen many of these items from Nite Ize at the checkout line at your local outdoor gear store. You might have even grabbed one or two as an impulse buy or bought them for stocking stuffers.
They're actually quite fun. I picked up a few items myself when I was at the Outdoor Retailer show earlier this year and have found them to come in handy as packing accessories that I didn't know I needed but now love.
These folks actually have a ton of products to choose from, but here are some of my favorite Nite Ize gear items:
Cliplit – these little LED lights have a caribiner attached so you can hook the light on to pretty much anything such as your keys, backpack, belt loop, etc. These are great for trying to find something in the bottom of your dark bag or in your tent late at night.
Best part is that they come in these awesomely fun colors and designs. Really, what traveler wouldn't want a peace sign or globe as their night light? Available on Amazon in lots of options.
Gear Ties 3″ – I actually use these little guys a lot to keep my electrical cords nice and tidy. They're great for packing but also perfect around the house. I have several pairs of earbuds that I use depending upon what I'm doing (wireless for gardening, more traditional ones for the plane) and I like to keep the cords in some sort of order so I'm not having to untangle them.
The gear ties actually come in multiple lengths so if you need cords or other items wrapped up that are larger than your headphone cords, there's likely a length that'll work for you.
Gear ties are available on Amazon in lots of options.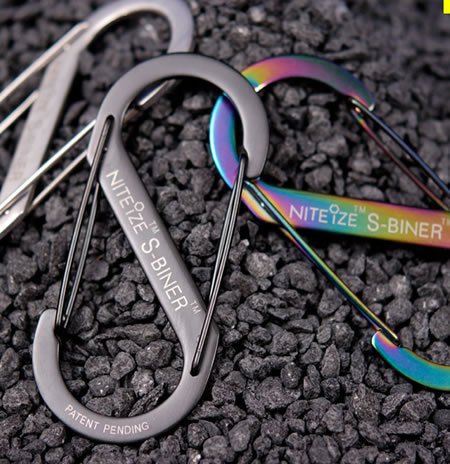 S-Biner – This little S-Biner has turned out to be a great item for me to have. I often carry a water bottle around with me and I've found that I can easily clip the S-Biner on to the water bottle and then clip it to my belt loop or backpack. Available on Amazon in a variety of styles and sizes.
Curvyman – I remember seeing someone in a coffee shop using one of these once and thinking it was just the most clever thing ever. And it is! It has the same function as the little Gear Ties in that it'll keep your earbuds from getting tangled, but it includes a little caribiner so you can clip it to your backpack. You'll never have to dig around for your earbuds again since you'll know exactly where they are. Available on Amazon for about $5.
Travel Well,
Beth
Disclosure: Nite Ize sent provided these items to me for review. Regardless, everything I have said in the post reflects my honest opinions.
Add a comment