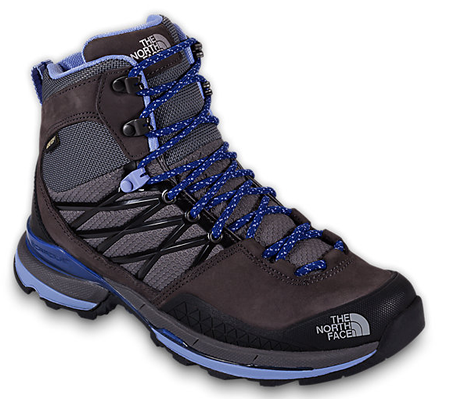 To call these "Lite" is an understatement.
The North Face Verbera Lite Mid GTX Boots are about a pound per shoe (size 8.5). You may never have thought of weighing your shoes before but try it. You likely don't have any hiking boots that come close to that weight.
It's because of that weight that these will be one of (likely) two pair of boots that come with me on the Snowman Trek in September.
Why? Well, my biggest needs from a hiking boot during the Snowman Trek will be:
Boots that provide a fair amount of ankle support. A low-cut boot won't do.
Ones that have solid soles (in this case, Vibram) as we'll be traversing a lot of uneven terrain, at times quite muddy.
Waterproof. There's going to be a lot of rain, maybe a little snow, and likely times when we're crossing streams. It's imperative my feet stay dry.
I took these out on a test hike to Mt. Rainier recently on the Eagle Peak Saddle hike. Though it was a beautiful sunny day–conditions I can only hope for in Bhutan–for a breaking-in hike, these proved to be a great pair of boots.
The light weight is not something that was initially on my wish list for hiking boots but I was totally wowed when I picked them up at The North Face store. Seriously. I could not believe how light these boots were.
While it may not be a big deal for shorter hikes, imagine how much nicer it will be for my feet to be lifting a boot that's only a pound in weight during a trek that will be 25 days and 220 miles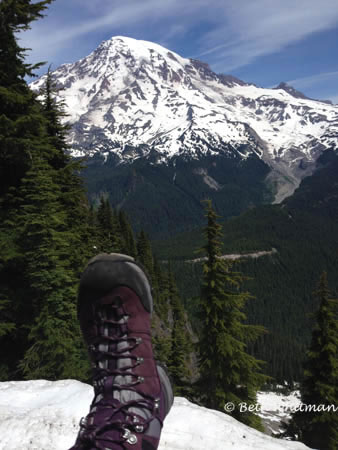 long.
The folks at The North Face store did mention that with a synthetic boot like this, it won't last as long as a pair of leather boots. While I hate throwing things out prematurely and appreciate longevity over convenience, I have to say that for a boot this light, I'm willing to concede to a shorter shelf life.
What I Love
The light weight, of course
The extra toe bumper that protects my toes when I smash 'em against a rock
The fact that they are waterproof
Not So Much
I did come across one little issue both when I tried these on in the store and with the pair that got shipped to me. There seems to be a seam or grommet that rubs one spot on my ankle just a bit. When I hiked Mt. Rainier, it bothered me for a few minutes but then I didn't notice it afterward. Once I removed the boot at the end of the hike, however, I noticed I had a little spot on my ankle bone that had been rubbed from something inside the boot. It never blistered over, it was just a slight rub. But it's something to be aware of.
As I mentioned earlier, these are definitely coming with me on the Snowman Trek. It's been suggested I have a second pair as a backup so I'm working on figuring out exactly which ones those will be (to be reviewed later).
The North Face Verbera Lite Mid GTX are available through The North Face site for $170.
Travel Well,
Beth
Add a comment