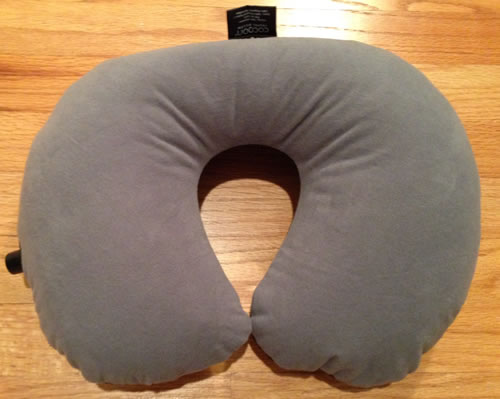 It must be the air on an airplane but pretty much the moment I sit down in my seat, I start to get tired and I generally fall asleep before we even leave the runway.
I know. You hate me.
I always request a window seat to make my napping easier. It allows me to curl up, lean against the window and snooze. But I do need a little help and I get it by using a pillow.
Enter the inflatable Cocoon U-shaped Air Core Neck Pillow.
You've probably purchased a half dozen neck pillows yourself that spring a leak after the third or fourth use. Not so with Cocoon. These are sturdy, well-made pillows that will hold up for years (I've had my current one for almost five years!).
Their latest version is just slightly different than their previous model. It's definitely just as comfortable but it appears to come together a bit more closely in the front and the sides are a bit wider.
There's nothing worse than getting a stiff neck because you're head isn't supported properly while you're napping sitting upright. On my test flights with this, I couldn't tell any difference in its performance but it definitely kept my neck up so that I could sleep.
One side has a microfiber cloth while the other is a nylon material. I put the nylon side up (so it's against my face) if I'm warm on my flight and the microfiber side up if I'm cool.
If history repeats itself, I'll have this neck pillow for at least another five years.
Available on Amazon for about $25.
Be Bold,
Beth
Do you read blogs in Feedly? Click here to add this blog to your Feedly reader.
Disclosure: Cocoon provided this neck pillow to me for review. Regardless, everything I have said in the post reflects my honest opinions.
Add a comment