When I'm packing for a trip, I'm always looking for ways to consolidate and decrease the volume of items that I'm taking with me.
Hydaway has just the answer to my needs, with their collapsible line of tumblers (pictured left), bottles and bowls (pictured below).
Made from lightweight silicone, these items collapse into themselves, taking up very little space–whether they get packed into my luggage or tossed into a carry-on bag. In the case of the tumbler, it's easy enough to pop into a small pocket in my backpack. I fill it up with coffee in the airport lounge before heading to my flight and have a hot drink with me when I board the plane. Once finished, I just collapse it back down and put it away. Easy peasy!
The slip on sleeves (also very lightweight) keep the heat away from your hands AND allow you to customize the look. My faves? The night sky as shown on the tumbler and the bright desert image on the bowl But there are SO many options!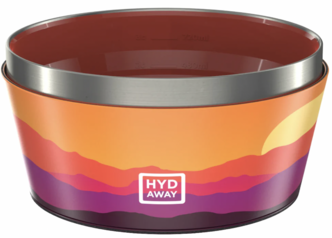 OK, truth. I wouldn't necessarily take a bowl with me on a trip BUT, this is excellent for camping! Just fill it up with oatmeal or your favorite dehydrated dinner and you've got a container that will hold up to a quart of food or liquid.
Oh – you now want these for yourself? Of course, you do!
Welp, you could win both of these items from Hydaway!
To enter, I'm making it super duper easy this month!

1) First, make sure you're subscribed to my newsletter. ?
2) Leave a comment below to let me know where you'd like to travel with YOUR Hydaway bowl and tumbler!
The Deets:
* Approximate value for both items is about $60!
* Contest closes at 11:59 pm PST on September 30, 2022 and the lucky winner will be chosen on October 1, 2022.
* Items will ship to a randomly drawn winner (open to those with a U.S or Canada address). Winner will have three days to reply once being notified. If no response, a new winner will be chosen 🙂
Good luck!
Be Bold,
Beth