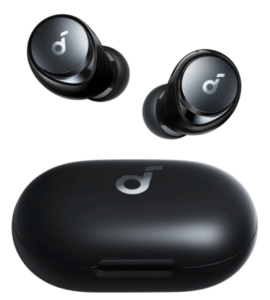 Sometimes my long training runs are long. Like really long. I'm talking three or four hours. And while I'd love to say that I can zen out in silence during this amount of time, the truth is that much of that time is spent catching up on podcasts. And when I get tired of people talking in my ear, I switch over to music.
I recently got turned on to soundcore's Space A40 noise cancelling earbuds. What's so cool about them? Well, here are a few of my favorite features:
First and foremost, they have 50-hours of playtime (this includes time charged in the case). This means that I'll be able to use them during my 250K stage race in Mongolia and won't need need to charge the case all week. Good thing as I won't have any way to do so!
The left and right earbuds can be programmed separately with different functions (through the handy soundcore app). In other words, I can program the left earbud to play/pause with a single tap and then program the right earbud to do something different with that single tap. While I usually only wear one earbud at a time when I run, this function is helpful when using both earbuds, like on a plane. This gives me some flexibility without having to pull out my phone to make changes to whatever I'm listening to.
These fit snuggly in my ears and never feel like they'll fall out. Though I'm using the tips that came with them out of the box, they come with a variety of sizes so you can maximize the comfort in your ears.
Unlike those white things that a lot of people put in their ears, these are pretty well-hidden as they sit in your ear rather than hanging over your lobes. I muuuuch prefer this style.
Pro tip: If you have these set to one tap for the play/pause, you might notice they'll turn on simply by removing them from your ears. I learned that in the first couple of days of wearing these. I would pause the audio when I walked in the house from my run and then set the earbud down while I was doing something else (like making a smoothie). I'd then hear "someone" talking and it was my podcast. I had inadvertently turned it on when I took it out of my ear. I addressed this issue by requiring a 2-second-long tap to the earbud for play/pause.
If you'd like to win your own pair, you can do so in a couple of very easy steps!
1) First, make sure you're subscribed to my newsletter. (I'm gonna check so don't cheat!)
3) Then, leave a comment below or send me an email to let me know you've done the above.
Yeah, it's a few steps, but it's $100 prize and it only takes a few moments. Really!
The Deets:
* Approximate value for a pair of Space A40s is $100!
* Contest closes at 11:59 pm PST on April 30, 2023 and the lucky winner will be chosen on May 1, 2023.
* Items will ship to a randomly drawn winner anywhere in the word! Winner will have three days to reply once being notified. If no response, a new winner will be chosen 🙂
OH – and if you're not feeling like you might be a lucky winner, you can order a pair (or two!) right now and get a 20% discount. At checkout, use the code: Wanderlust&Lipstick
Good luck!
Be Bold,
Beth