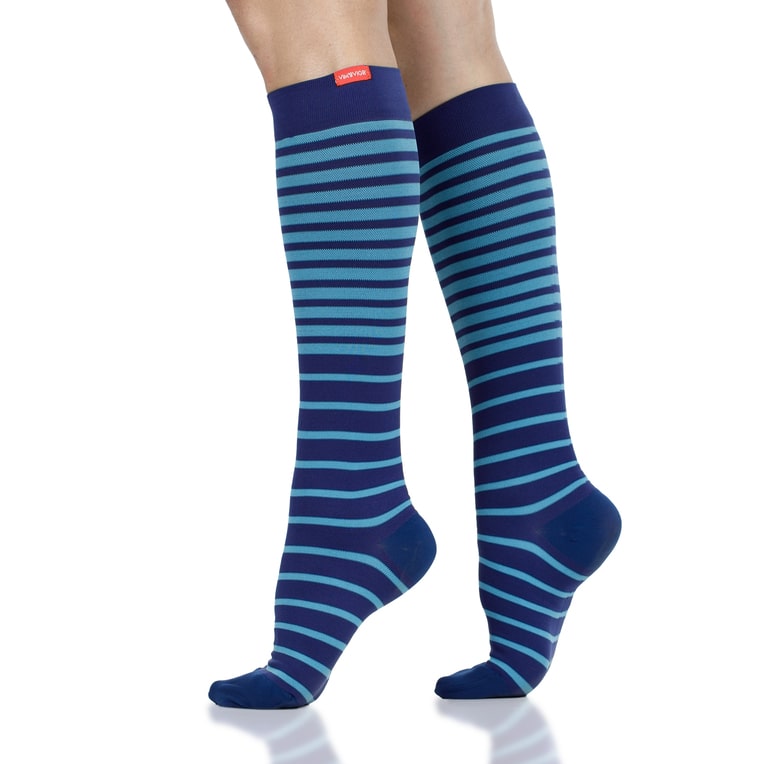 I love love love my compression socks from Vim&Vigr.
(And you will, too, because you have a chance to win two pairs!)
Lemme tell you a little bit about why these are so important to your travels…
You know what DVT is, right? Please say yes. OK, if you said no…deep vein thrombosis is a condition where a blood clot forms, typically in one of your legs after prolonged sitting (ahem, like on a long flight). It can break off and enter your lungs, causing a pulmonary embolism. Yikes!
But I'm not telling you this to make you afraid. I just want you to take precautions on those long flights, such as getting up often to stretch your legs and…wearing compression socks!
Vim&Vigr specializes in compression legwear that's perfect for both
travel and daily wear. I wore a pair on a recent trip and found them to be soooo comfortable. So comfortable in fact, that I wear them as my non-travel socks, too. I find they are particularly wonderful after a long run (but you don't have to be a runner to enjoy them).
The ones I have are considered "mild compression" with a 15-20 rating, but if you have any underlying conditions, you might consider something with a medical grade of 20-30 for a fit that's a bit tighter. In addition to socks, they have tights (which are perfect under a short dress or long top) and compression sleeves (great for runners). No matter what you're looking for, you can find lots of options on the Vim&Vigr website. OR….
Guess what? You can win two pairs of compression socks from Vim&Vigr!
I'm giving away two pairs of compression socks to one lucky winner. The fine folks at Vim&Vigr will ship worldwide so this is open to people around the world.
Approximate value is $75!
To enter, do these three things that will take about five minutes:
1) First, make sure you're subscribed to my newsletter. Easy enough. And it's free! If you're already a subscriber, great! Follow numbers 2 and 3 below.
2) For a bonus entry, follow me on Instagram! I have two accounts, @bethwhitwa and @wandergal
3) Want another bonus entry???  Send me a note and let me know where you're going next and where you've like to wear your Vim&Vigr socks should you win.
4) LEAVE A COMMENT below or contact me so I know which steps you've done above.
The Deets:
* Approximate value for two pairs of Vim&Vigr compression socks is $75!
* Contest closes at 11:59 pm PST on May 31, 2022 and the lucky winner will be chosen on June 1, 2022.
* Items will ship to a randomly drawn winner. Winner will have three days to reply once being notified. If no response, a new winner will be chosen 🙂
Good luck!
Be Bold,
Beth