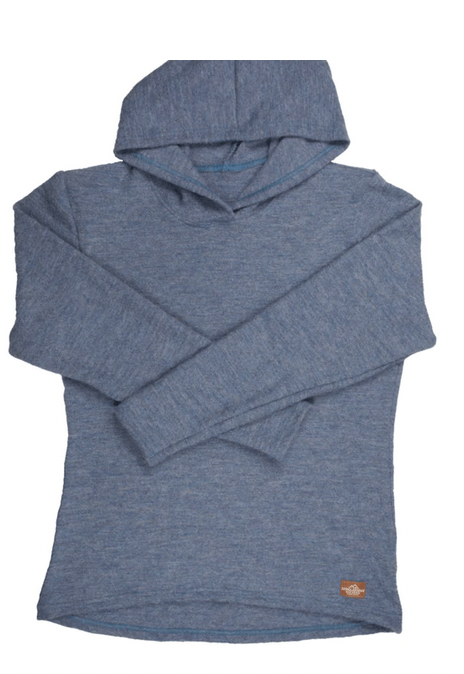 When I first heard about Appalachian Gear Company's All-Paca Fleece Hoodie, I thought it was going to be like other hoodies that are currently hanging in my work-from-home closet.
I was delighted when this very soft sweater arrived. It's actually nothing like my other hoodies. (Not sure if that says more about me or about this particular hoodie – LOL.)
Rather than a baggy top that I might wear only around the house, this is a snuggly, form-fitting sweater that actually looks really nice on.
While I did feel an initial scritchy-scratch when I put it on, it softened up pretty quickly with no noticeable itchiness after a very short time.
When the house gets cool (I tend to keep the heat down to an annoyingly low temp), I find myself flipping the hood up to bring myself a moment of warmth.
It's also just long enough that I feel comfortable wearing it with a pair of tights (OK, now we're getting back into the work-from-home clothes) but also pairs great with jeans.
You can bet this is coming with me to Ireland in May where I anticipate getting a lot of wear out of it in the country's iffy spring weather!
Overall, I love the addition of the All-Paca Fleece Hoodie in my wardrobe (even if it doesn't come in purple!).
Guess what? You can win an All-Paca Fleece Hoodie!
I'm giving away an All-Paca Fleece Hoodie to one lucky winner residing in the U.S.
This is currently available in nine colors (though some are sold out in certain sizes).
Value is $153!
To enter, do these three things that will take about five minutes:
1) First, make sure you're subscribed to my newsletter. Easy enough. And it's free! If you're already a subscriber, great! Follow numbers 2 and 3 below.
2) For a bonus entry, follow me on Instagram! I have two accounts, @bethwhitwa and @wandergal
3) LEAVE A COMMENT below or contact me so I know you've done steps one and two above.
The Deets:
* Approximate value for the All-Paca Fleece Hoodie is $153!
* Contest closes at 11:59 pm PST on April 30, 2022 and the lucky winner will be chosen on May 1, 2022.
* Item will ship to a randomly drawn winner with an address in the U.S. Winner will have three days to reply once being notified. If no response, a new winner will be chosen 🙂
Good luck!
Be Bold,
Beth