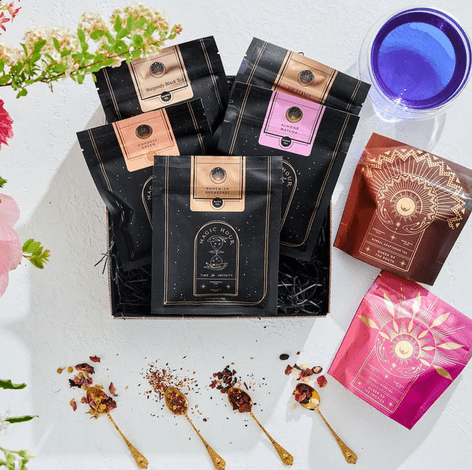 Back in the fall, I stopped drinking coffee. (I know!) It happened in a single moment when I put down the cup I was drinking from and realized that I didn't really like the taste of that particular coffee. And like that, I was done (for the most part).
I'm now on the tea bandwagon (or maybe I should say a total tea bandwagon or a tea totaller's wagon or something–LOL). In any case, this means I'm finally starting to make a dent in the embarrassing amount of tea I have squirreled away in our pantry. (Tea is, like jewelry, apparently an easy travel purchase so I've managed to accumulate waaaay too much).
One such tea that's found its way into said pantry is from Magic Hour whose mission is to connect the world through tea ceremony.
The first thing you'll notice is just how many options they have on their website. Don't let this overwhelm you! Sit down with a cup of whatever tea you currently have in YOUR pantry, relax and do some searching on their site.
You have lots of options that can help you drill down on the type of tea you're looking for. Want something relaxing? Try a tea from their caffeine-free collection. Need an energy boost? Try a tea from their list of energy-boosting collection. Like to travel? Check out their Wanderlust collection. See, that was easy.
I'm sure you'll quickly find something you're drawn to and then you can branch out from there.
The most difficult decision might be to whom you should gift one of their subscription boxes.
When I received my box of two travel-sized containers, decaf Lucid Dreams and the Tulum Horchata Chai made with yerba mate, I was really impressed with the packaging. It felt like a gift to myself. Just look at this:
I've always liked the idea of giving a subscription gift to someone, but who wants to be on the hook for a full year? With Magic Hour, their subscription boxes are for just three months. And you have to re-activate it if you want to continue. So no, ouch-I-forgot-to-cancel-my-subscription moments!
Perhaps most important to note is that they have teas that come in travel-friendly jars (like the ones pictured above). While they are just a tad on the heavy side, they are certainly small enough to toss into your luggage–whether you've got a checked bag or a carry-on–and the glass is sturdy enough that it's not going to break.
Suffice it to say, there's a lot to explore on the website. Buy yourself a gift or give it to a friend (ahem, there's always room in my pantry for more!). There are so many options here. And if you find yourself putting down your mug of coffee for a tea cup, lemme know. I'd love to hear why and how you turned the corner!
Beth