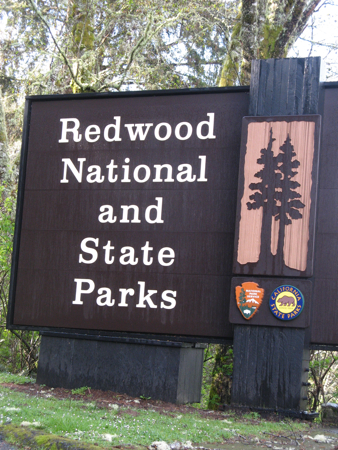 This land is your land, this land is my land,
From California, to the New York Island,
From the redwood forest, to the gulf stream waters,
This land was made for you and me.
I can't get this old Woody Guthrie song out of my head. Maybe it's because I'm in the Redwood Forest!
I know this doesn't have much to do with food, but I have to share some photos of where I am — heading down Highway 101 along the northern California coast.
I started my day in Crescent City, which is on the ocean just south of the Oregon border. I stayed at this funky motel that was perfectly preserved from the 1960s: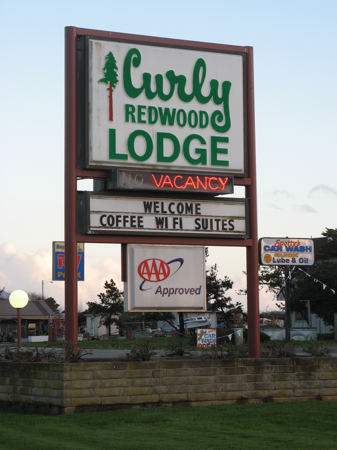 The whole building was supposedly constructed from a single giant redwood tree!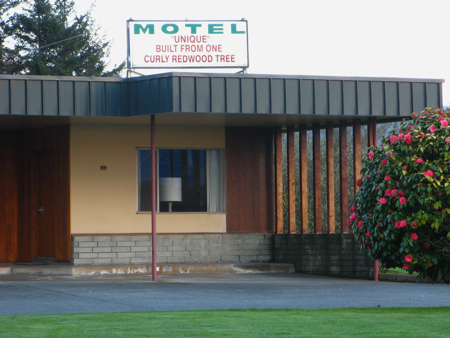 Yes, there was Wi-Fi, but otherwise, entering my room was like stepping back into my father-in-law's living room.
Even the napkins that accompanied my morning coffee were deliciously retro: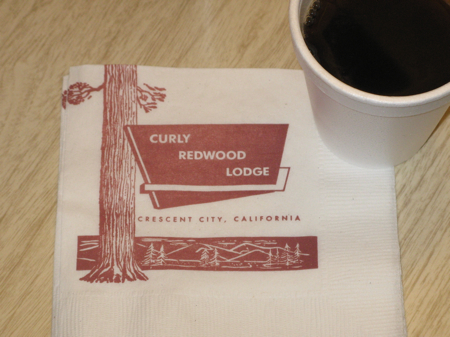 Sleepy Crescent City is just a place to sleep, but south of town, I had to stop and take a photo of the Pacific Ocean as the morning sun was trying to shake off last night's rain: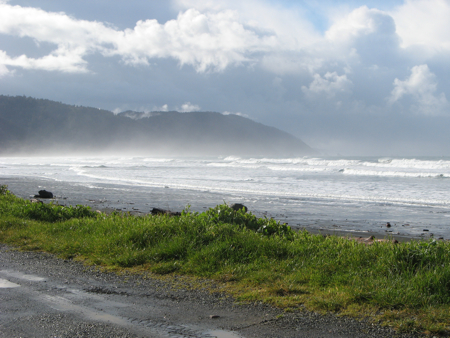 I was hoping to get to the town of Eureka in time for a late breakfast at the Samoa Cookhouse, which claims to be the last surviving lumber camp cookhouse in the western United States. They no longer feed loggers, but they do feed tourists, serving a set menu — no options — for breakfast, lunch, and dinner.
But when I arrived, I was 15 minutes too late for breakfast, and instead of French toast, they were cooking up Salisbury steak.
Now I love all sorts of old-fashioned foods. I'll dive into a plate of fried chicken or smothered pork chops or biscuits and gravy. But Salisbury steak?!? That's a little too retro even for me…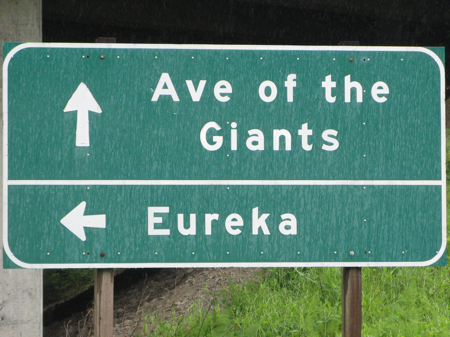 So instead, I grabbed a quick bite from the North Coast Co-op, a locally-owned, Whole Foods-like market, and kept heading south toward the Avenue of the Giants, a 30-mile route past some of region's the tallest redwood trees.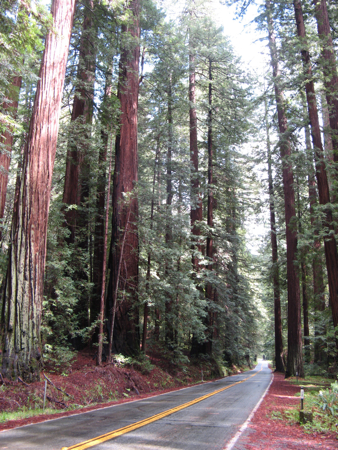 The weather unfortunately turned kind of gloomy — it even started to hail for a few minutes — but these trees are big!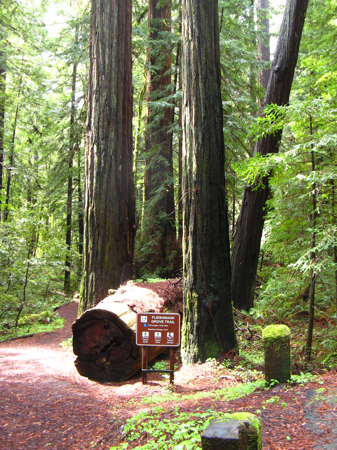 The little Honda Civic I'm delivering to Los Angeles next to the giant redwoods…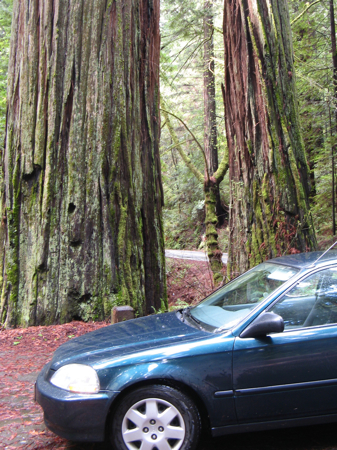 Humming: From the redwood forest…
Back to the regularly scheduled food programming soon!
Have you done this trip through the Redwood Forest? What were the highlights for you? And should I have stayed for the Salisbury steak? Please let a comment and let us know.
About the "Hit the Road Hungry" Road Trip
I'm doing a solo road trip from Vancouver to Los Angeles, working with a company called Hit The Road that pairs people who want to take road trips with people who need their cars moved. I'm delivering a forest green 1998 Honda Civic for its owners who are moving from British Columbia to southern California, and I'm eating my way down the west coast.
The previous posts in this series are:
When Plans for Pie Go Awry
Taco Craving
Pok Pok in Portland
Living The Serious Coffee Lifestyle in Portland
Bites By Bike, with Portland's Pedal Bike Tours
Taste of Korea: A Taste of the Food Cart Scene in Portland
I Should Have Had the Deep-Fried Pickles
Tasty Travels!
Carolyn
Photo credits:
Samoa Cookhouse photo by p_linehan (flickr)
All other photos © Carolyn B. Heller