Food Freeway is on the move! This week, I'm bringing you the beautiful country of Venezuela! Yes, it's time for South America – but I'm going to switch it up from now on. Looking back at the cuisine of the Caribbean and Central America, many of the countries had very similar dishes – in fact many had the same national dish! – and to be frank, I was getting a little bored with cooking so many similar meals.
My taste buds crave diversity, so that's what they're going to get. I, separate from my taste buds, also crave diversity in travel, and though I don't get to go to all of these incredible places, they're sure inspiring. On a recent whirlwind culinary trip to Vancouver, I had the chance to taste a wide variety of delicious treats, and the experience jump-started the change in Food Freeway. Now, rather than jumping to neighboring countries, I think the blog will go further – look deep into countries around the world, hop continents, and I encourage you all to come along with me.
Here we go! Venezuela (check out its location here) is located in northernmost South America. It's flanked by Guyana to the east, Colombia to the west, and sits atop Brazil while the Caribbean Sea splashes its northern shore.  The sea provides an array of seafood – shellfish, snapper, and Dorado are popular, but the fresh water of the country also provides some fish – primarily trout. Inland, the environment is ideal for raising cows, pigs, chickens, and more; needless to say, the Venezuelan diet is hearty and rich in protein.  Other common ingredients include, but are certainly not limited to: plantains, potatoes, yams, lettuce, cabbage, onions, eggs, corn, rice, cheese, and bread. Hot sauces are used often, and meat and fish are mostly deep fried or grilled. Sounds good, doesn't it?
Dishes are influenced by neighboring countries, as well as ones who have played a part in Venezuela's history, including: Spain, France, Italy, and Portugal. There is also a significant African and Amerindian presence in both the culture and cuisine.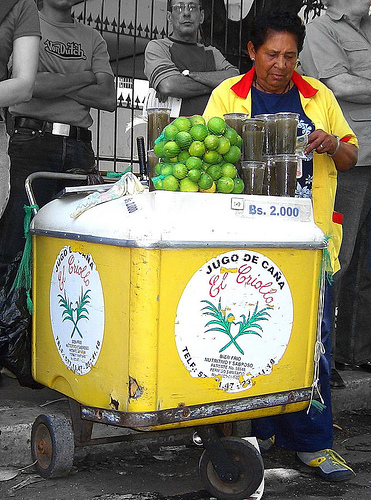 Here's a selection of popular Venezuelan dishes (please refrain from drooling on your keyboard): Cachitos de Jamón (a cheese or ham, or cheese and ham filled croissant), Caprese salad (tomatoes, mozza, and fresh basil), Arepas (this is the most common dish in Venezuela. It consists of a little corneal cake that is filled with meats and cheese and usually deep fried or grilled), Tostones (twice fried plantains), Cachapa (corn pancake with cheese), Pisca Andina (Andean soup), Quesillo (flan!), and Besito de Coco (coconut cookies).  The national dish is Pabellón Criollo, a plate of rice, beans, and shredded beef.
It's a delicious sounding country, isn't it? Have you ever been to Venezuela? If so, did you like the food? What was your favourite dish?
 * Note: Today's photos are by jopimalg (countryside) and ruumo (juice cart).