It's time for the Recipe of the Week here at Food Freeway, and to celebrate the beginning of June (aka: finally! Almost summer!), I've got a recipe for Coconut Shrimp from Aruba! These delicious little bites are perfect for backyard cookouts and are best when enjoyed with a tropical drink (try a Puerto Rican Piña Colada for a double dose of coconut!).
Don't forget, it's Wanderfood Wednesday! Head over to Wanderfood for a tasty post and a ton of links to delicious sites.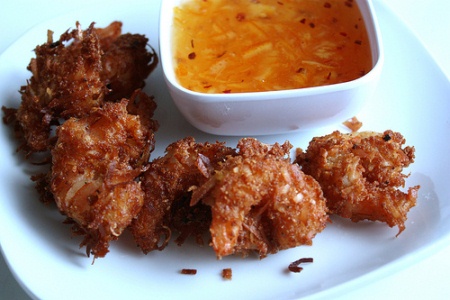 Aruban Coconut Shrimp
Adapted from Caribbean Choice
Serves 4
Ingredients:
1 pound fresh shrimp, peeled and deveined, tail on
½ cup all-purpose flour, divided
¼ cup cold water
1/8 teaspoon each salt and pepper
1 cup shredded coconut
Oil, for frying
Instructions:
1. Heat oil in a large pan or deep fryer.
2. In a medium bowl, whisk ¼ cup of the flour, salt and pepper, and cold water until smooth.
3. Place the other ¼ cup flour in a small bowl, and the coconut in another.
4. Dip the shrimp, one at a time, in the batter from step 2, and then dip it in the flour, and then in the coconut – pressing the coconut in so it sticks. Cook in the hot oil, a few at a time, until golden, and then set on paper towel to drain some of the oil. Serve hot.
Photo Credit: alanagkelly