It's time for the recipe of the week! I've got another blast from the past for you as we head back to take another look at Costa Rica. While I featured a delightful cocktail (El Macuá) as Nicaragua's Recipe of the Week back in July of last year, today I am sharing a recipe for the country's national dish: Gallo Pinto!
Be sure to check out the original Nicaragua post for more information on this gorgeous Central American country!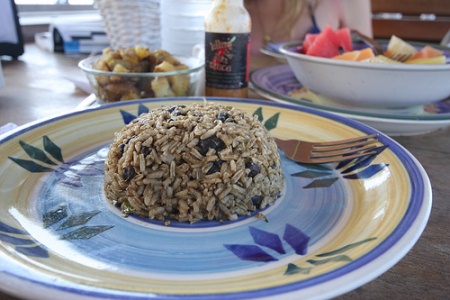 Nicaraguan Gallo Pinto
Adapted from whats4eats.com
Serves 4-6

Ingredients:
2 tablespoons coconut oil
1 medium sweet onion, finely chopped
1 bell pepper, finely chopped
3 cloves garlic, smashed and minced
2 cups drained red kidney beans or black beans, liquid reserved
Salt and pepper, to taste
2 cups cooked white rice
Instructions:
1) Heat the oil in a large frying pan over medium-high heat. Add the onions, pepper, and garlic and sauté until tender, stirring often, about 3 minutes.
2) Stir in the beans and a tablespoon of the reserved liquid, and season with salt and pepper. When the liquid comes to a boil, reduce heat to medium-low and continue to cook until heated through.
3) Add the rice and mix well. Add more salt and pepper, if necessary, and serve immediately.
Don't forget to stop by Wanderfood for Wanderfood Wednesday! There you'll find a delicious post and an assortment of fabulous links. Adios!
Photo Credit: arvindgrover