Welcome back to your Recipe of the Week! This week I've got a mouthwatering recipe for Barbadian Fried Fish. This dish doesn't require too many ingredients (or all that much effort), and, paired with an ice cold beer, it's just the thing to make you feel like you're relaxing on a beach somewhere in the Caribbean.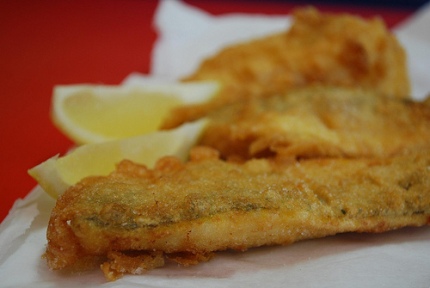 Barbadian Fried Fish
Adapted from Totally Barbados
Serves 4
Ingredients:
4 fish fillets (snapper, cod, or similar fish work great)
Juice of 2 limes
¾ cup water
1 large egg
2 tablespoons Caribbean seasoning (available at grocery stores in the spice aisle – or make your own)
1 cup fine breadcrumbs (Panko works great)
1 cup all purpose flour
½ teaspoon sea salt
¼ teaspoon ground pepper
1 teaspoon paprika
½ cup oil (for frying)
Instructions:
In a large bowl, mix the lime juice and water. Place the fish in the bowl, cover with plastic wrap, and refrigerate for one hour. Remove the fish from the bowl, pat dry with paper towel, and set aside. In another large bowl, whisk the egg with the Caribbean seasoning and then place the fish in the bowl and turn to coat; set aside. In another large bowl, whisk the breadcrumbs, flour, salt, pepper, and paprika. Heat a large frying pan over medium-high heat and then add the oil. One at a time, remove fish fillets from egg mixture and coat them with the flour mixture by putting them in the bowl with the dry ingredients and tossing. Place fish fillets in the hot pan (oil should be sizzling), and cook until golden (about 2 minutes) and then flip and cook the other side for another 2 minutes. Remove from pan and set fish on a paper towel lined plate to get rid of some of the oil. Serve immediately with lemon or lime wedges.
Next up on Food Freeway: Venezuela! Have you ever been to Venezuela? If so, what did you think of the food? What was your favourite dish?
In the mood for some more delicious reads? Head over to Wanderfood for Wanderfood Wednesday!
Note: Today's photo is by avlxyz – check out the full photostream here.