Guest post by Rissa Gatdula-Lumontad

Aside from the beach and bushland, Perth's lively dining scene is another reason to visit. The city's ratio of restaurants and cafés to the population is more than other Australian cities. Whatever your taste or craving, there is surely a place to satisfy you in Western Australia's capital and largest city.
Here's a list of the highly recommended restaurants to include in your itinerary:
1. Rockpool Bar & Grill – Located at the world-class entertainment place, Crown Perth, this chic restaurant allows you to feast on premium Australian produce in a sophisticated setting. The first of the highly regarded restaurants in Neil Perry's Rockpool Group, the restaurant is famous for the influential Australian chef's unique concept in steakhouse dining, where you get to watch your order prepared on the wood-fired grill in the open kitchen. Open for lunch Sunday through Friday from 12 noon to 3 p.m., and for dinner from 6 p.m. daily. The bar is open from 12 noon Sunday through Friday and from 6 p.m. on Saturdays.
2. Restaurant Amusé – Multi-awarded, this used to be one of the city's best kept secrets, owing to its location on a low key area of the city in East Perth. The Hadleigh and Carolynne Troy are committed to providing an exquisite dining experience, with their Modern Australian menu alongside their vegetarian and pescetarian selections. Open only for dinner from Tuesday through Saturday starting at 6:30 p.m.
3. Jackson's – This highly-acclaimed restaurant is located in Perth's inner suburb of Highgate. The wide-ranging menu includes delicious innovative meat and seafood dishes based on the season with Asian influences. The appeal extends to vegetarians, with special concoctions by innovative and adventurous Neal Jackson. Open Tuesday through Saturday from 6:00 p.m.
4. Opus – This restaurant prides itself on French and Australian cuisine created from seasonal Australian ingredients. There is more than a hint of opulence and glamor when you dine here. Perfect for romantic dinners. Open Tuesday through Saturday from 6:00 p.m.
5. Nobu – This branch of the prestigious world-class chain is another restaurant that offers a unique dining experience. Also located at the elegant Crown Perth, it offers a distinctive fusion of traditional Japanese cuisine with the flavors of South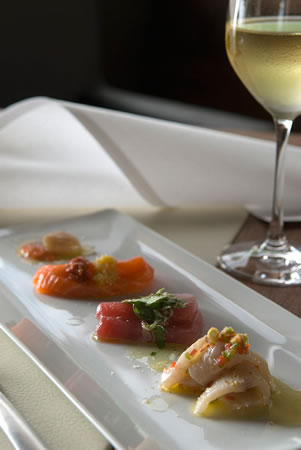 America. The excellent cuisine plus the nice ambiance, overlooking the Swan River and the city skyline, together create a great night out. The preparation of sushi by its highly skilled chefs is an entertainment in itself. It is open daily for dinner and from Tuesday through Sunday for lunch. The bar opens at 5:30 p.m. daily.
6. Friends Restaurant – Aptly named for its warm and welcoming staff, this fine-dining restaurant offers superb Modern Australian cuisine as well as superb views of the Swan River and the city. Restaurateurs Clyde and Lesley Bevan give their utmost attention to details, from the food, the service and the interiors, and features hand0carved chairs and hand-polished glasses.
7. Harvest – This favorite restaurant serves seasonal peasant fare in an old rustic cottage setting. Just the thing if you are looking for a place to have a relaxing long lunch or a cozy night out. Both meat-eaters and vegans will enjoy its English food made from fresh produce. Open from 6 p.m. Tuesday through Thursday and from 12 noon on Fridays. Breakfast is also served on Saturdays and Sundays from 8 a.m. Weekend dinners are only served on Fridays and Saturdays.
8. Divido – Expect simple, good Italian food here, blending the traditional with new techniques. It started as a casual restaurant and became popular for its rustic wood-fired pizzas. A refurbishment in 2007 gave it a cozy, stylish ambiance and turned it into a fine dining restaurant. Their wood roasted duck is a must try. Open from 6 p.m. on Mondays until Saturdays.
9. The Loose Box – This is one of Perth's most well-known restaurants. Chef Alain Fabrègues offers unique dishes with French influence that will surely delight the adventurous foodie. Open for dinner from Wednesday through Saturday and for lunch on Sundays.
10. Pata Negra – This Spanish restaurant serves an exciting mix of tapas plus adventurous dishes, including flavorful vegetarian options. The atmosphere is lively. Opens at 5 p.m. Tuesday through Saturday, and for lunch on Fridays from noon until 3 p.m.
*****