It's Victoria Day long weekend here and many people are celebrating with their friends and families by having picnics, barbeques, and fun in the sun (hopefully!). For today's post I've decided to revisit Mexico and give you a recipe for guacamole. Whether or not you're partaking in the festivities, this delightful Mexican dip is perfect for a late-spring snack with tortilla chips, used as a topping on any grilled meat or fish, or stuffed inside a spicy burrito.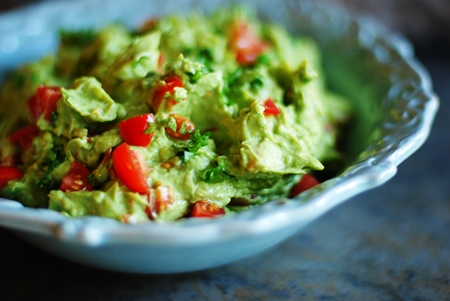 Did you miss the original post on Mexico? Check it out here! Want a full Mexican dinner? Take a look at this recipe for Bunuelos, which was featured as the Recipe of the Week back in May of last year.
Guacamole
Ingredients:
3 large, ripe avocados
Juice of 1-2 limes
½ medium white onion, diced
1 large tomato, seeded and diced
1-2 large jalapeno or Serrano peppers, seeded and diced
1/3 cup fresh cilantro, finely chopped
Sea salt, to taste
Instructions:
1) Slice avocados in half lengthwise, remove the seed, and scoop flesh into a medium bowl. Add juice of one lime and mash the avocado with the back of a fork or with a pastry cutter.
2) Add onion, tomato, hot pepper(s), and cilantro. Mix well and add more lime juice and salt, to taste.
Next up on Food Freeway: another blast from the past! What countries would you like to see featured on Food Freeway?