By Elsa Thomasma
You'll see them in big cities and popular travel destinations. Backpack-luggers with cameras, often sunburned, and seen at almost every major landmark in the world. Tourists are easily spotted because they not only look like tourists they also act like tourists, making them vulnerable to pickpockets and local jokes. So when you are planning to go on a trip abroad, first learn how to blend in, especially if you're a first-time traveler. This keeps you out of trouble, but more importantly helps you feel immersed in the local way of life and make the most out of your trip.
1. Do your homework and know your host country.
Learn the local customs and know a bit about the country's history and current events. A little knowledge about your host country can go a long way. Not only is it a sign of respect, it will help you engage in conversations. Know the do's and don'ts, or some common taboos to avoid so you will minimize your chances of offending the locals by accident. Be aware of any present discrimination issues, so you won't be shocked and you will know when to bite your tongue.
2. Know the currency exchange rate.
It's very helpful if you know how much the exchange rate is so you won't get scammed when trying to exchange money. You should know the exchange rate before you leave, but also make it a habit to check it online often since exchange rates change daily.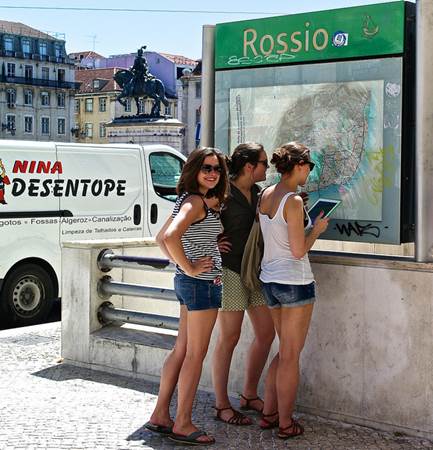 3. Familiarize yourself with the place(s) you're going.
Buy maps, guidebooks and browse online before you go so you can get your bearings before ever stepping foot in a foreign place. If you've planned an itinerary, print it out or scribble it in your guidebook so you can begin to get a feel for where you will be going each day. Saving a map with pins on your phone is a great way to hide that you're lost out in public, just glance at your phone and no one will know you aren't texting or checking emails. Also familiarize yourself with the places you do not want to go, so you can avoid the "unsafe" part of town or the "illegal party scene."
4. Learn a few words of the local language.
English may be considered the world's universal language, but not everyone can understand it or speak it. Learn a few basic words and useful phrases like "How much are these?" or "Where is the bathroom?" in the local language. Travel-oriented language dictionaries or apps are very helpful too.
5. Ask for directions discreetly.
Avoid standing on the sidewalk anxiously scanning through a big map or pointing at street signs and looking confused. If you get lost, find a store or a restaurant where you can sit down and open your map, or ask a cashier or security guard which direction your destination is in. At all costs, don't panic. Just keep your cool and look for someone who can help you if you can't figure it out from personal resources.
6. Dress appropriately.
Wear clothes that are appropriate for the weather and culture. Do not wear revealing clothes if you are traveling to a conservative country like India or Vietnam, if you don't want to be criticized or stand out. Beach shorts and tank tops are acceptable on the beach, but are not generally acceptable in general public settings in many nations. Research the country's climate and "dress code" before shopping for your trip or packing your bag. Try to avoid wearing a large expensive camera around your neck too, it screams tourist and is also a target for petty thieves.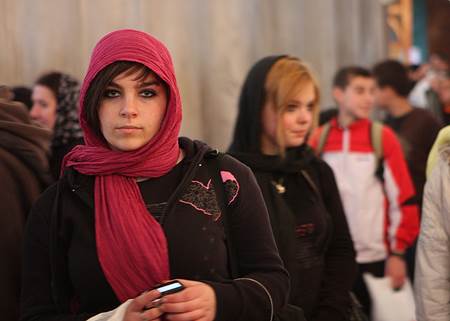 7. Keep a low profile.
You are a visitor so be polite and always keep it low-key. Speaking louder in your native tongue won't help someone who doesn't understand your language figure out what you are trying to say, and yelling across the bus to your friend won't help locals enjoy your company much. Communicate politely and quietly. Keep large amounts of cash in a safe place and avoid whipping out wads of cash in public places. If in doubt, do what the locals are doing.
8. Stray off the beaten path.
Avoid traveling during peak season, whatever that may be for your destination. You'll enjoy a place better if you're there when all the other tourists aren't. Rates for airfares and accommodations are far cheaper during low season too. Hungry? Pick a local restaurant that serves local cuisine instead of going to a fast food chain. Follow the locals not the foreigners for an authentic experience!
9. Get help from the locals.
If you know someone where you're going, ask them to show you around or at least for a few tips. They'll surely be experts when it comes to the best places to go, what to avoid and what not to miss. However, if you don't know anyone, ask a hotel employee or a tour guide for suggestions or hidden away, must-see places.
Know as much as you can before you depart and think smart when you arrive. Avert attention from yourself and blend in as much as possible, and you might even be mistaken for a local!
*****
Elsa Thomasma is an editor and content manager for GoAbroad.com and she is also the director of the company's nonprofit foundation. She came to the Philippines for the first time as a volunteer with a local nonprofit organization in 2009, and returned multiple times before settling permanently in the Philippines. In her free time, she enjoys managing activities at a community center in a rural village, sharing stories about her experiences on her blog, and continuing to give back to the Filipino people, who have altered her life indefinitely.
Photo credits:
London Tourist: Garry Knight via Flickr
Tourist Map: Pedro Ribeiro Simões via Flickr
Tourist in Mosque: David Dennis via Flickr
Tourist Girls: Pedro Ribeiro Simões via Flickr
Tourists with Locals: Garry Knight via Flickr