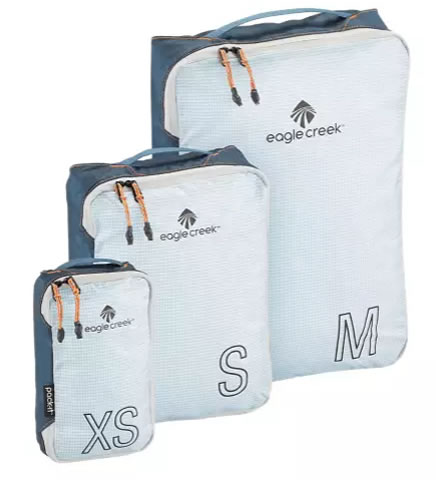 For the longest time, the ONLY way I would pack my clothes was in compression sacs (also from Eagle Creek here). And I do still love them because I can compress my items down to about 1/3 of what they normally are.
But a couple of years ago I got turned on to the Eagle Creek Pack-It Specter Tech packing cubes. And I've kinda become hooked on them. On trips where I need to have more clothes than usual, I still use my compression sacs, but you can bet that at least some of my clothes are packed away in a cube or two because it makes organizing my items SO easy.
Here's how I make best use of them:
I use an S cube to separate out my running clothes from the rest of my items. There's plenty of room for a pair of running tights, shorts, two tops, bra and a cap. (I roll up my socks and put them in my running shoes along with underwear.)
I use another S cube for my PJ's as well as other items that might be special to that location (swimwear for Hawaii, gloves and a hat for cold weather, for example).
When I don't use a compression sac, I'll put my daily clothes in an M cube. So that might have my pants, tops and a sundress.
I use the XS when I need space for additional small items that won't fit into my shoes such as underwear and socks.
I've been using my Eagle Creek packing cubes for years and they haven't shown any wear to date.
Looking for ways to better organize your clothes for your next trip?
You can win a set of Eagle Creek Packing Cubes!
I'm giving away one set to a randomly drawn winner! Here's how to enter…
1) First, make sure you're subscribed to my newsletter.
2) For a bonus entry, send me your favorite packing tip.
3) For another bonus entry, follow me on Instagram at @Bethwhitwa and @wandergal.
4) LEAVE A COMMENT below or contact me so I know you've followed the steps above. And let me know YOUR Instagram so I can follow you back!
The Deets:
* Approximate value for the Eagle Creek Pack-It Specter Tech Cubes is $40!
* Contest closes at 11:59 pm PST on January 31, 2020 and the lucky winner will be chosen on February 1, 2020.
* Items will ship to a randomly drawn winner with an address in the U.S. Winner will have three days to reply once being notified. If no response, a new winner will be chosen 🙂
Good luck!
Be Bold,
Beth