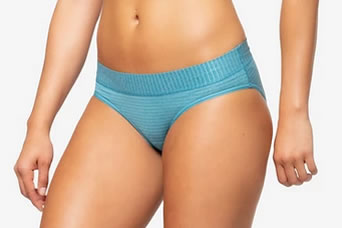 Of all the things one might be concerned about packing, you might give underwear the least amount of thought. But I do give this quite a bit of consideration. Mainly because my number one goal is to pack light by bringing as few clothing items as possible on a trip. And that includes my underwear.
Yup – I take the time every couple of nights to handwash my clothes, including undies, so that my luggage isn't filled with items I'm only wearing once or twice.
When I was introduced to GoLite, their underwear became my new favorites.
I do love them because they are performance / active underwear due to their stretch and anti-odor and moisture-wicking properties. But I also love the Bikini ReActives because they are so fast-drying. I can wash them out at night and they are easily dry by morning.
But you know what else is cool? They are made from recycled plastic bottles. How absolutely cool is that? (And seriously, you'd NEVER know it.)
Best features of the GoLite Bikini ReActive Underwear:
Made from recycled plastic bottles and Spandex giving them a nice stretch – perfect for travel and exercise.
Anti-odor and moisture-wicking properties especially great for active women (I've loved wearing these while running!).
Available in five colors (also available in other styles AND for men).
You can win a pair of GoLite ReActive Underwear!
I'm giving away two pairs, one each to two winners!
1) First, make sure you're subscribed to my newsletter.
2) Then, simply follow me on Intagram at @Bethwhitwa and @wandergal.
3) LEAVE A COMMENT below or contact me so I know you've followed the two steps above.
The Deets:
* Approximate value for the GoLite ReActive Underwear is $22/pair!
* Contest closes at 11:59 pm PST on December 15, 2019 and the lucky winner will be chosen on December 16, 2019.
* GoLite will ship to two winners with an address in the U.S. Winner will have three days to reply once being notified. If no response, a new winner will be chosen 🙂
Good luck!
Be Bold,
Beth