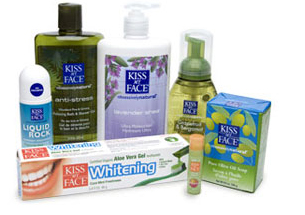 Are you a Kiss My Face fan? I have to admit that I don't think I've paid attention to these folks since I was in maybe high school. Not to say that this brand is for teenagers, it just seems like it was popular when I was in a mind set that I had to know what the popular kids were doing, because I wasn't one 🙂
The Kiss My Face folks recently sent me a goodie box after I met up with them at the Outdoor Retailer Show in Salt Lake City. The most important things I was looking for was 1) products available in travel size containers and 2) that they be made from natural ingredients.
Among a number of lip glosses, lip balms and creams that I received, I found that these are the most travel-friendly and the ones I have used the most on my recent short getaways:
Facial Créme & Sunscreen (1 oz tube)
Eye Repair Créme (.5 oz tube)
Jojoba & Mint Facial Scrub (2 oz tube)
Deep Cleansing Mask (2 oz tube)
Exfoliating Face Wash (4 oz tube but can easily be transferred to smaller bottle for travel)
As with all personal care products, what works best for you often comes down to scent, how your skin type responds to the cream and whether the colors (as in the lip glosses) suit your skin color. With the exception of the darker lip glosses, I love everything I tried.
Everything is just subtly scented enough so as to as to be pleasant but not overwhelming and nothing was greasy or felt like it stayed on the surface of my skin for an extended period of time.
But how well they function is just part of the beauty, so to speak, of any product line. What I really
dig about Kiss My Face is the history of the company. Founded 25 years ago by two vegetarian (men) looking for healthy body care products, they are committed to creating products that are not only good for your body, but also the earth. Here's a list of reasons you should consider Kiss My Face:
Many of their products are either organic or made from natural products
No artificial colors
No animal ingredients or testing
No parabens
The products listed on their site are in the full size bottles/tubes but they do have a trial size variety bag you can purchase OR you can simple purchase what you like and then transfer them to smaller bottles for your travels.
Travel Well,
Beth
Related links:
WanderGear: Pinnacle Camper Cookware
WanderGear: Win a Pair of Birkenstocks!
WanderGear: Zeal Sunglasses
WanderGear: Blu Bandoo
WanderGear: Tops from Moving Comfort
WanderGear: Summer Accessories

Join other Wanderlusters and stay updated on travel-related items by subscribing via email or RSS feed.