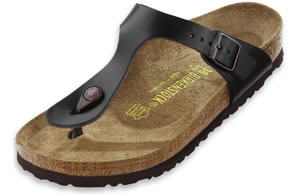 Contest is over – thanks for participating!
You've got until 11:59 pm PST on 9/23 to pen a limerick for your chance to win a pair of Gizeh Birkenstock sandals.
There are about 30 entrants so far including:
From Teri:
Back in Eighty Nine she saw their smirks
Those in the suburbs were total jerks
People would all just stare
When she wore her first pair
By Ninety they were all wearking birks! myth alive.
From Kim:
Exploring the world all alone
Much back and foot pain have I known
Birkenstocks hold your feet
On a cork bed…a treat!
How I covet Gizehs of my own!
From Naomi:
When wearing her new pair of Gizehs,
one lass was prone to stripteases
she stripped down to her panties
while singing old shanties
all about her devotion to pizza
Can you do better? Here are a couple of guidelines:
This is for girls-only and it's for a pair of Gizehs. There are no restrictions other than making it friendly enough that your mom wouldn't blush reading it and that the folks at Birkenstock USA are only able to ship to North American (though ALL are encouraged to submit their limerick.)
So… on with it. Leave your comments below with your limerick of any length (now don't go wild – you'll win points for brevity and creativity). Entrants must post their limerick by 11:59 pm PST on September 23rd. Winner will be announced on September 24th. Consider subscribing to my RSS feed so you don't miss the announcement.
Winner will be chosen at my discretion 🙂
Added bonus – the winner will be featured on the Birkenstock Blog!
Oh, and in case you're wondering… the Gizehs, which I tested out, are perfect for wearing after a long day of sightseeing. The cork footbed is formed to fit a healthy foot and provide support and proper weight distribution. Though they are stiffer than other sandals that I own, this actually provides support that I've never had in a sandal before (who knew what I was missing!). Once I had the strap adjusted tightly enough, I found that these were surprisingly comfortable.
Now where did I put my granola???
Travel Well!
Beth
Related links:
WanderGear: Zeal Sunglasses
WanderGear: Blu Bandoo
WanderGear: Lole Convertible Dress
WanderGear: SummerWear
WanderGear: Tops from Moving Comfort
WanderGear: Summer Accessories

Join other Wanderlusters and stay updated on travel-related items by subscribing via email or RSS feed.