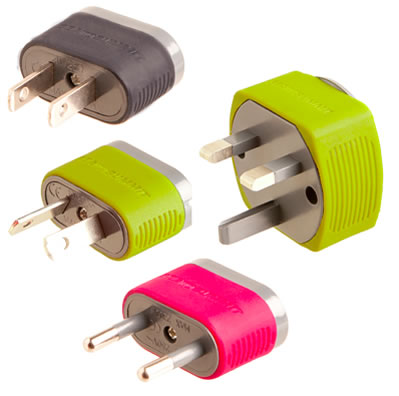 If you're a frequent traveler, you've likely collected a gaggle of travel adaptors over the years. I know I have. I forget to pack the ones I already own and have to scour the airport for a store that stocks an overpriced adaptor that's appropriate for my destination.
I therefore now have a couple of mostly complete sets and a mishmash of some other brands thrown in for good measure.
But, I recently got a full set of Sea to Summit Travel Adaptors that I like far better than any of the other mismatched ones I own.
The truth is that there's not much discernible difference between brands. I mean, there's not a lot of engineering that goes into these. No moving parts, no screens to swipe. And as long as they work, then two thumbs up. Right?
But Sea to Summit has done two things to make me WANT to remember to pack them for my next journey.
1) They've made them in fun colors
2) They got a silicone sleeve with little grip lines on the side making them easy to remove from a plug
They come in four versions for use in:
Australia/China
Europe
USA/Canada/Japan
UK/Hong Kong/Singapore
These are major destinations but of course they can be used in many other countries. You'll want to consult a guide book for where you're going to determine which one(s) you'll need.
They're only $10.95 on Amazon but you'll need to be careful about how you order them as it's a bit confusing. You first need to choose for which country you need the adaptor. Then choose the "size" which is actually the number that you'll receive. The UK adaptor comes in a one-pack, while the others come in two-packs.
I've got "travel adaptors" on my packing list so I don't forget them again. And the Sea to Summit ones are now placed in a small bag sitting with my other travel accessories so I can easily grab them for my next trip. No Sea to Summit travel adaptor will be left behind.
Travel Well!
Beth