It's kinda hard to go to the Land of Gross National Happiness and not have a good time. The people are kind, humorous, generous and steeped in ancient traditions and culture.
Interestingly enough, there are usually lots of tears, too, (good ones, of course) because there's something about the purity of Bhutan that makes one emotional.
It might happen at Tiger's Nest. Or when the King stops to talk to the group. Or when you're driving along the country's one main road and you realize you've never seen so many green trees, snow topped mountains (the Himalayas) or blue sky.
I'm setting off for my ninth trip to Bhutan in April. Nine times! Wow, how fortunate can one person be? I must have done something right in my previous life :-).
Joslin, our Lady Sherpa blogger and tour guide extraordinaire, escorted our women-only group to Bhutan last fall. That's her, second from left, in the photo above. Don't they look like they're having a blast???
There aren't generally great distances between villages in Bhutan, but driving can be very slow. I heard a statistic once that there's a turn every nine seconds. That might be an exaggeration but, if so, it's not by much. The drivers are experts at this slow, methodical driving. And the in-country guides are expert at knowing just when the group needs to take a break for fresh air and stretch the legs.
Here, are the ladies at one of the high passes to take in the view and have a look around.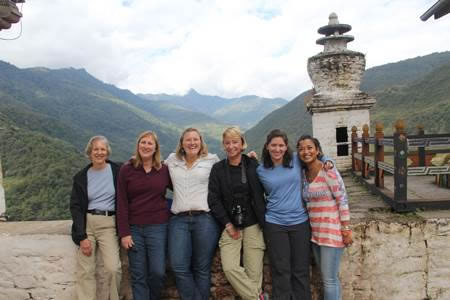 Most of our tours are scheduled to coincide with a festival. If we're lucky, we'll either have time to shop for kiras (the local outfit worn by Bhutanese women) or our hotel staff has some extra kiras to loan us that we can wear to one of the festivals. Don't these gals look awesome?
On all of our tours, we employ local guides who know the religion, culture, language, flora and fauna far better than we ever could. Here, Tshering shows the group a magical mushroom she's plucked from the forest during a day hike.
For most people, their best moment in Bhutan is seeing Tiger's Nest, the most famous monastery in the country. It's at least a two-hour hike to get up there but it's so worth it. It's not an exaggeration to say that it will likely go into your memory bank as one of the THE highlights of your life. No kidding.
Even after eight trips, I haven't tired of visiting Bhutan. There's always something new to discover and every time there's some magical experience that occurs–be it meeting the King, one of the Queens or seeing Tiger's Nest in some new light.
This year we've got two Bhutan women-only tours. I'll be leading the April tour (yes, there's still time to join us) and Joslin will be leading the fall tour.
In September, we're running the Snowman Trek, a 25-day epic adventure through the Himalayas. This is a co-ed tour and is considered the hardest trek in the world. We'll be raising money for RENEW, an organization that helps women of domestic violence in Bhutan and are partnering with a number of companies who are sponsoring the trip.
If you'd like more info on these or any of our other tours, please contact me. I'm happy to answer your questions.
Travel Well!
Beth