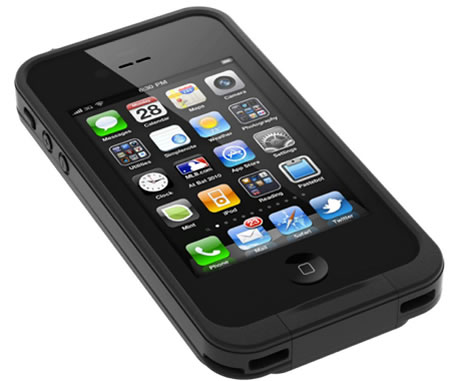 (Yes, it's Thursday. But I'm in Bhutan with limited internet access so this is getting posted a wee late :-))
I have to admit I was a bit skeptical about the LifeProof iPhone case when the folks at the company asked me to review it. Before actually placing it on my iPhone, I was convinced that it was going to be too bulky of a case for me to use. And, I wasn't confident that it was something I would need on a regular basis. I was wrong about the bulk and partially right about my own personal usage.
Many iPhone cases protect your phone from scratches and nicks and they help somewhat with absorption when (because there's always a when) you drop it. But the LifeProof takes this protection many steps further.
This case is waterproof, shockproof, dirt proof and snow proof. It's slimmer than any other waterproof iPhone case I've seen AND it allows for total functionality while completely protecting your iPhone from the elements.
The folks at LifeProof insist that you first watch their video instructions before actually using your case. This, at first, annoyed me. I didn't want to have to watch a video "simply" to place my phone in a new case. My thinking was that it shouldn't be that difficult to use. Right? But, after some hesitation, I realized the video and the detailed instructions were for my own good — they're meant to give you confidence in using your case and to ensure that you're doing it correctly. Because, really, who wants to find out after you've dropped your phone in the water that you didn't have it snapped together correctly?
And it IS all about the snapping. After you've slipped your phone into the case, the most important thing is to make sure that you've got it all snapped together correctly.
Simply put, your phone slips into the case, snaps down and the protective cover allows you to use the touchpad just as you normally would. Everything's sealed in tight. The headphone jack has a screw-off top so the internal workings are protected when under water and the power supply is sealed shut when you don't have a power cord going to it.
Given all the protection that you're getting, the price is reasonable at about $80. It comes in numerous colors including black, white/grey, cyan/black, earth/black, teal/black and magenta/black.
Currently available for iPhone 4 and 5.
The LifeProof iPhone Case is for you if you own an iPhone and you:
enjoy water sports
take part in snowy activities
are an outdoor adventurer such as a climber
What I Love
That you can use this to shoot photos and video underwater
I have total confidence that my phone is protected when I drop it — this doesn't occur often but, of course, it happens.
Not So Much
I did find there is a small gap between the cover and the screen, so I have to push down slightly harder than I normally would in using my phone.
It is a bit bulkier than your usual protective cover but for the person who's prone to dropping their phone or leads a very active lifestyle, it's easy to get over the slight bulk knowing that your phone is protected.
So my final verdict is that it is far less bulky than I anticipated. But, it is just bulky enough that I, personally, wouldn't use it for every day use. For something like a trek, totally, this is for me. I know people for whom this would be perfect, however.
Available on Amazon for just under $80. Not a bad insurance policy at all.
Travel Well,
Beth