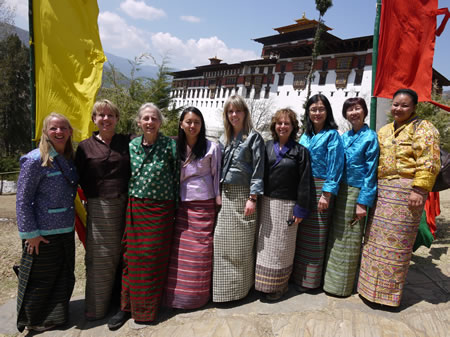 On the final day of the Paro Festival in Bhutan, the lady staff members of our hotel, the Metta, offered up their very own kiras for our group to wear at the festival. Mighty fine looking, aren't we?
So, what's a kira and why does Bhutan require a national dress?
A full kira is a sort of dress, a woven (and often heavy), rectangular piece of material that is wrapped around a woman and pinned at each shoulder to keep it up. For the untrained wearer, it's quite complicated.
The half kira (which we are wearing above) is more like a skirt and is also quite complicated to wear, mainly because the only reason it stays on is because it's wrapped tight around your waist (think Spanx) and then held up with a belt that is simply tied. Loose the knot in your belt or step on the bottom of your kira and you can just imagine how easily it could fall off (miraculously, it doesn't).
The jacket, or toego, is worn on the top with a light shirt underneath.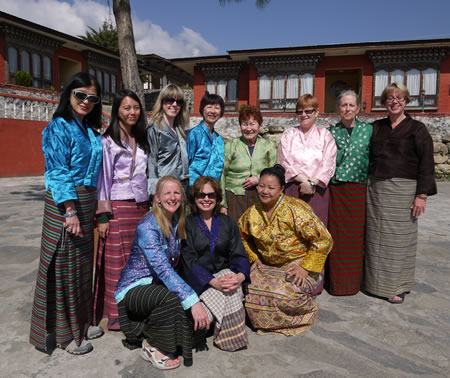 The patterns for the kira and the toego are never the same, but somehow the Bhutanese ladies know how to properly mix and match their tops and bottoms (none of us had a very good eye for this).
Note – both the toego and the kira may be woven from either cotton or silk and are quite warm. I wore a toego to an event in Seattle during springtime and nearly passed out because I was so hot in it. Great for the Himalayas but not so much for dinner out.
Bhutanese women in kiras tend to wear heels and we even saw some at the Paro Festival in stilettos. We barely kept it together in flats!
So, why does Bhutan have a national dress?
Well, the Bhutanese are a very proud people. While they are opening up the country to the outside world, they are also holding on to their traditions including their festivals (tshechus), music and clothing. School children wear "uniforms" (meaning their outfits are the same color) of kiras and ghos. And while young people are starting to wear more western-style clothes in the cities, the national dress is still compulsory at work and expected at formal occasions. All in all, the vast majority of people do wear the national dress and swear that they are quite comfortable in their outfits. We definitely needed convincing :-).
Though I don't know how they do it, it's beautiful to see the Bhutanese wearing these stunning outfits while they work, play and live. Hopefully, this long-standing tradition will continue, despite the increase of satellite TV, Hindi soap operas, pizza and ice cream.
Travel Well,
Beth