In the last eight days, I've traveled from Berlin to Seattle and then Seattle to San Francisco, Seoul, Bangkok and onward to Bhutan. With all of these long-haul flights, I realized that there are three items that I can NOT travel without. Well, not without losing my sanity, that is. Here they are: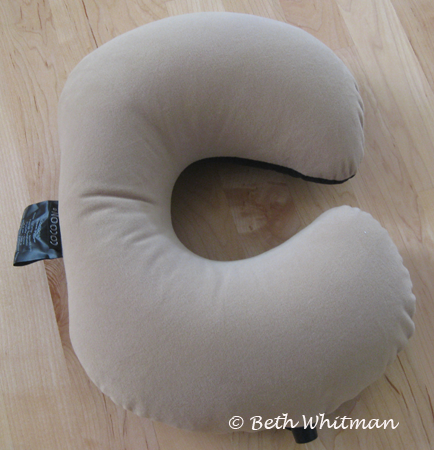 Neck Pillow — This inflatable neck pillow is absolutely the best one I've ever owned (it's from Cocoon but I'm not sure it's still available through them). I used to buy those cheap ones that cost less than $10 but after going through two of them in as many months, I gave up. The seams are so poorly constructed that after just a few uses, they split and wouldn't hold air. Sure, they were great because they packed down super small, but that didn't do me any good once they started leaking.
The Cocoon pillow has a felt covered side and a smoother silk side. Some days I feel like I need a little warmth and keep the felt side up and other times prefer the silky side. I do have to remember that when I inflate it prior to take off that it's going to expand once we're airborne. So, unless I want it super firm (which I normally don't), I leave some "breathing room" and let it expand just enough so that it's a bit squishy.
Using the neck pillow saves my neck from terrible cricks that happen when I simply try propping my head up with my hand or letting it rest against the window.
Here's one from Lewis & Clark that you can pick up on Amazon for about $15.
***
A few years ago, I had a long flight in which there were people talking incessantly (and loudly)
in the seats behind me. It was a 12-hour flight. And even after I and other people asked them to keep their voices down so we could sleep, they couldn't help themselves. When this happened again on my next long flight, I knew I had to do something. So I bought a pair of Bose Noise-cancelling headphones.
These are expensive ($300) but they're also one of the best investments I've ever made. While some outside noise still gets through, it's a light din compared to what I hear without them. And, when I've got a movie, music or podcast playing lightly, most everything else disappears.
If you're a frequent traveler (or just need to drown out the neighbors), these'll do the trick. (I even wear them at home when Jon is on a conference call and I'm working on my computer.) And, yes, I have the big ones, not just the earbuds.
****
The last item is super simple but also super smart. Eye shades. They often come in the little welcome packages on some international flights but are a cheap purchase from your local travel store. You don't even need anything fancy. (I've noticed some companies producing these that look almost like little bras for your eyes — they're meant to be soft on your lids — you know, so you don't muss up your makeup. But given that I wear so little, those don't matter to me.) I use a cheap pair and usually put them on once I board a flight. And them I'm out right away.
Here are a bunch of options on Amazon.
***
I know I must look ridiculous with all this head paraphernalia, but it works for me. I sleep. I block out the noise. I listen to podcasts. And I arrive a happy camper.
Travel Well,
Beth
Related links:
PacSafe Toursafe 21″ Luggage