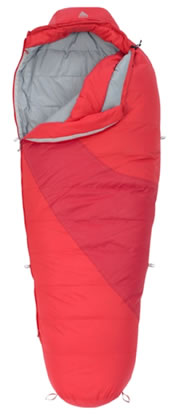 It might seem weird that I'm thinking about sleeping bags in the winter but it's all in an effort to get my gear together for the Snowman Trek later this year.
And really, any true backpacker/camper knows that it's never too early to be on the lookout for gear options!
The Kelty Ignite DriDown sleeping bag is a 600 fill bag with treated down so that it will stay 10 times drier and dry 33% faster than untreated down. In the real world, this means you'll have a far better chance of it holding up against rain, snow and humidity. It'll also keep you warm down to 20 degrees F.
The Ignite comes in a men's and women's (pictured) version. Although the Kelty site doesn't get specific, I suspect that the women's version is a bit shorter and is perhaps more tapered than the men's.
It weighs about 2 pounds, 11 ounces. Not bad for a sleeping bag.
There's an additional piece of down that lines the zipper area inside the bag, preventing air from seeping in through the zipper. And the form-fitted hood has a cinch so I can truly mummify myself by getting all tucked in.
What I Love
Form fitted hood allows me to pull the bag over my head while still being able to breath out of an opening (I could never stick my whole head in a sleeping bag so this is the perfect solution).
Even though it might seem a bit more constricting for some, I'm a big fan of the mummy shape as it seems to keep my whole body warmer than a bag I'm flapping around in.
Though at 5'2″ this is not a concern to me, it will fit a woman as tall as 5'8″. That is taller than many comparable bags and I suppose it gives me a bit more wiggle room.
It's a great bag for the price ($219 on the Kelty site).
Not So Much
I'd love to have this pack down just a bit more. It's a tad bulky for a backpacking adventure but I guess not so bad if you've got a porter carrying your gear :-).
Kinda wish it came in colors other than red.
Overall the Kelty Ignite DriDown 20° is a warm three-season bag that'll keep you warm in most conditions.
Available on Amazon for about $200.
Travel Well,
Beth