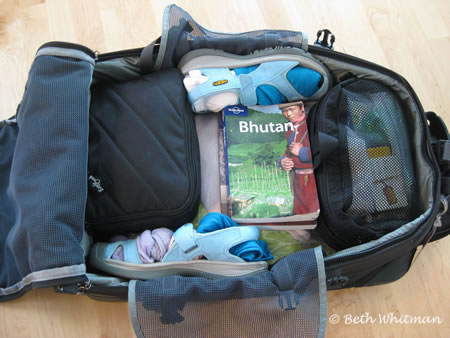 One of the smartest things I've learned to do over the years is to have one go-to packing list for all of my trips. The list contains nearly everything I would need during my travels, whether I'm headed to Berlin, Bangkok or Bangalore.
I print out my packing list, cross off the items I don't need for that particular trip and then start making piles of items until I'm all packed up.
For the clothes, I leave a line next to the item so I can note how many of each I need to pack.
For specific suggestions, you can browse through my gear recommendations.
And you can download my travel packing list here. Here's what you'll find on it:
Clothes

Blouses____
Dress pants____
Short sleeve shirts ____
Shorts_____
Jeans_____
Tops_____
Pajamas_____
Underwear_____
Workout clothes_____
Dress socks_____
Gym socks_____
Belt_____
Jacket_____
Dress shoes_____
Sandals_____
Walking/workout shoes_____
Bathing suit______
Scarves_____

First aid kit

Tiger balm
Mossie repellant
Band aids
Immodium
Antibiotics
Hand sanitizer/handiwipes

Toiletries

Shampoo
Conditioner
Hand lotion
Facial soap
Facial moisturizer
Sunscreen
Makeup
Razor
Hair gel
Toothbrush
Toothpaste
Floss
Deodorant
Hairbrush
Q-tips
Vitamins
Hair ties
Earplugs

Electronics

Laptop
Camera
Power supply for camera
Power supply and accessories for GoPro
SD cards
iPod
Phone
Phone charger
External hard drive/backup for images
Kindle power cords

Miscellaneous items

Books
Guidebooks
Maps
Jewelry
Notepad/journal
Sunglasses
Business cards
Briefcase or backpack
Travel docs
Passport
Driver's license
Pens
Gifts
Frequent flier card

Food
Best Packing Tips
** Pack as little as possible and bring only one carry-on if you can manage. Wear your heavier clothes and shoes on the flight.
** Dress in layers when there's a wide range of temperatures at your destination.
** Educate yourself on what's appropriate to wear at your destination. For women, baring your shoulders, knees and elbows might not be appropriate in some countries. For men, shorts might not be appropriate. The more you can blend in with the locals, the more you'll be accepted and respected.
What's missing from the list? What do YOU carry with you that you don't see here?
Travel Well,
Beth