For those who aren't yet familiar with them, GoPros are high definition video and film cameras often used for shooting extreme action. The ultra-wide angle lens provides a 170 degree view. With such a wide angle, the image is pretty stable, even under very active conditions. While it's most popular for what it can produce with video, it takes great stills, too.
I have to admit that when I opened the box for my GoPro Hero3 Black Edition Camera, I was pretty intimidated. Along with the camera itself, it comes with:
Waterproof housing
Wifi remote
Wifi remote charging cable
Li-ion battery
Quick release buckle
Vertical quick release buckle
1 Curved + 1 Flat Adhesive Mount
3-Way Pivot Arm
USB Cable
In addition, for testing, GoPro also sent me:
LCD Touch BacPac
Touch Backdoor
Standard Backdoor
Skeleton Backdoor
Protective Case
Handlebar mount
Chest Mount Harness
Headstrap Mount
Camera Tethers
I also now have:
Tripod mount
XShot Pro camera Extender for GoPro
And on order:
For the purpose of this post, you don't have to know what all of these things do. But you can see how intimidating this could be, right?
** This would be a good time to make a little confession. When I can't figure something out, especially when it pertains to technology (OK, and math), I get pretty frustrated. If it's laptop-related, I can usually ask Jon and he can walk me through it. If he's busy or away, I usually throw up my hands and move on to something less technical.
I was a bit concerned that the GoPro would be such a piece of technology. One that would make me throw up my hands in frustration. Given all the accessories I had to sort through, that was a natural response. But what I found was that it hasn't been all that intimidating and much easier to use than I ever expected.
Some things to keep in mind:
1) Once you open the box, I urge you to read the instructions to not only understand the features of the camera itself but also what each accessory is. Keep a list or label the items so you know what you're working with. Determine which accessories are essential for your first shoot and find a carrying case in which you can organize everything. I have yet to find the perfect case for the camera and all of the accessories I use most often, but I am currently using a Sea to Summit Padded Cell that works well.
2) It takes a bit of time to get used to using the camera outside of the housing with the LCD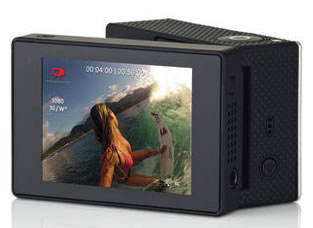 Touch Bacpac (shown in photo, right). There's no eyepiece, so like the back of your digital camera, this attachment allows you to see what you're filming.
Probably the strangest thing about using it this way is that you're just holding this little box in your hand. There's no loop to hold it securely around your wrist because if you use a tether, it mounts to the camera in such a way that it then won't fit in the housing later.
Most people don't use the LCD back. Instead, they use the camera in the plastic housing and mount it to their helmet, car, bicycle, etc. This is so they can document the activity from their point of view. As such, they aren't as concerned about capturing a specific shot.
3) Because there's no zoom function, you have to know very little about how to control what you're shooting. There's one point of view and that's wide angle, baby.
4) If you're using the camera without the housing but with the LCD back, you'll need to be super careful about not dropping it and remember to put it away safely after each use. Simple rules, for sure, but the GoPro is so small (it basically fits in the palm of your hand) that you can easily loose control of it or it could easily get snatched out of your hand or purse.
5) Once you've got the basics down, watch some videos that have been shot with a GoPro to get some inspiration and ideas.
Here's one from my friend, Joshua Johnson from Matador Network:
Here's one I made using the time lapse function:
You don't have to be a SCUBA diver or even outdoor adventurer to use the GoPro. You can find plenty of Youtube videos where people have been very creative using one in everyday situations.
Using a GoPro might just change the way you look at things.
Like me, it might give you some confidence that technology may not be as difficult to figure out as you thought.
It'll help you see things differently because with the wide angle lens, well, you can't help but see the world differently.
It'll make you want to go have adventures because the camera was meant to be used for activities. While I haven't mounted it to my motorcycle helmet yet, I will. And it's going to be hiking with me in Bhutan. And it might just be the reason I take surf lessons in Hawaii the next time I go!
Befitting with my theme this year, Be Bold, I will with the GoPro.
There's a wide range of cameras available starting at about $200 on Amazon for the basic version. I'd say that it will definitely be $200 worth of fun for you!
Travel Well,
Beth
Disclosure: GoPro provided the camera and some accessories for me to review. Regardless, everything I have said in the post reflects my honest opinions.