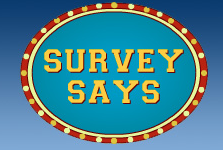 In late 2012, we ran a survey to get your feedback on our monthly newsletter. We learned a tremendous amount from the responses – including the fact that people were looking for more ways to contribute to the site and feel more involved. That's why we launched our monthly travel photo contest and why we continue our yearly travel writing contest.
We also usually have a monthly giveaway on this blog for new subscribers and those who subscribe to my RSS feed (at right).
Want more of what you like and less of what you don't?
Please take a moment to fill out this very brief questionnaire so that we can best provide you with the information you're looking for in a newsletter.
To, uh, bribe you into spending a few minutes to provide your input, we're giving away a $50 Amazon Gift Card to one random winner who fills out the survey (and includes their email address so we may contact you). The survey closes at 11:59 PM on January 31, 2014 and a winner will be chosen on February 1, 2014.
Here's the link to take the survey.
If you're not already a newsletter subscriber, why not? You can join us here and receive our monthly travel tips and information.
Travel Well,
Beth