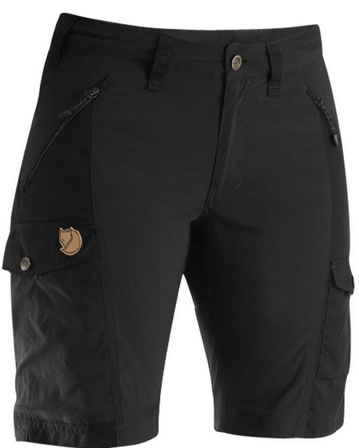 It's summer in Seattle and I'm confident enough that warm weather is here for awhile that all of my cool weather clothes are put away and my warm weather clothes are all that's left in my closet and dresser drawers at the moment. That's a great feeling.
Even though our summer has technically just begun, between travels to Hawaii, New Orleans, Santa Fe and London, my Fjallraven Nikka Shorts have actually been getting some regular use. So I feel these have been put to good tests thus far.
The trick now is putting them to use during our short window of sunshine and heat. And yes, we're having a heatwave here!
Here's the deal with the Nikka shorts. These are considered trekking shorts for several reasons. They've got a bit of stretch so they're easy to move in. But, more importantly, they're super durable, so they can definitely take a beating on the trail.
The folks at Fjallraven were pretty smart when they made the waist a bit lower in the front/higher in the back so that a backpack can sit comfortably on your back. The front pockets are both zippered so you won't lose anything on the trail and there are two additional pockets on the legs that snap shut to carry extra goodies (protein bars, cell phone, etc.).
Truth be told, I haven't even been out hiking in these yet. But I've been wearing them regularly since April when I was on Maui.
I will say that because of the length and heavier material, these aren't shorts you want to wear around the neighborhood on 90+ days. They're just a bit too thick for that. But for slightly cooler summer days and for hiking, you can't go wrong.
The Fjallraven Nikka Shorts retail for about $120 but are a bit less on Amazon. You might think this is a little pricey for shorts but, as in all Fjallraven clothes, these technical hiking shorts are going to last you for years.
Be Bold,
Beth
Want to stay up-to-date on all things Wanderlust? Follow me on Facebook, Twitter or RSS/email.