Back in April, I had the chance to go to Maui (my first time there!) for a retreat with my fellow Expedia Viewfinder bloggers. We took writing, video and photography workshops, had business meetings and spent time experiencing some of Maui's best activities. Oh, and we ate. A lot.
Jon was able to tag along so we spent a few extra days on-island and hiked and took in the sunrise at Haleakala. To work off all the food we were eating, I ran on the promenade along the waterfront in front of our hotel, the Fairmont Kea Lani.
But one of the most fun activities for me was surfing with my colleagues!
Surfing!
I've been surfing only a couple of other times–once in Costa Rica and once on Kauai. I've haven't yet fully taken to it, probably because I'm not great at it and I don't have enough opportunities to get great at it, but I figured it would be fun to get out of my comfort zone and head out with some instructors from Hawaiian Paddle Sports.
Thought you might enjoy this story about the adventure…
*****
Six surfboards lay ready in the sand. Mikey and Jason, our surfing instructors, encourage us to choose a board based on our height and experience. Three guys and Trish take the 12-footers, while two of us take the 11-footers.
Jason gives us the first of our lessons. "Lay down on your stomach and when you paddle, you'll want to scoop deep with your hands so as not to waste your energy on small strokes. Place your hands in the middle of the board, arch your back and pull yourself up, planting your feet in the middle of the board."
After I try this a few times on land, my hands working through the gritty sand, I think, "This is harder than I remember," thinking back to my last lesson on Kauai five years ago. I continue with my thoughts. "Why didn't I go standup paddle boarding with Kara? I bet she's having fun. I have to go out in the water and spend the next hour paddling with my arms through those waves. Why didn't I go canoeing with Deb and Dave? This is going to be hard."
We're encouraged to pick up the boards and carry them to the water. But my arms are too short to wrap around the board's middle and I end up dragging it through the sand. I think to myself, "This is heavier than I remember."
Once in the water and on the board, I easily paddle out. "OK, not so bad after all."
We're supposed to spend about an hour in the water catching as many waves as possible. But they are so spread out that we spend much of our time waiting, alternating between sitting and lying on the board. As the sets of waves come up, Mikey and Jason guide us two by two, helping us catch the wave and instructing us when to stand up.
With my first wave, my arms and legs are fresh and energetic. I'm up and gliding along, barely aware I'm moving with the ocean.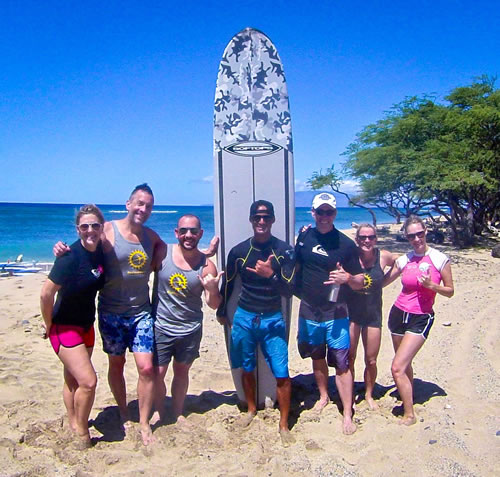 But I now have to paddle back to the group and wait for another wave. Now we're all fighting the heavy winds coming in from the shoreline and have to continually paddle in and to the left where the waves are breaking.
By the third set, Jason yells back, "Let's make this our last wave."
I wait patiently for my final chance. I wait some more. Jason guides me over to where the waves are breaking and I dutifully paddle. "Here it is, take it," he says.
I paddle harder. When I think the wave is breaking, I jump up and quickly fall into the water. It's then I realize my legs are spent. I jump back on the board and start paddling toward the shore. It's then I realize my arms are also spent. I hope for more waves to push me the rest of the way in.
I drag the board back through the sand and, once again think, "This is much harder than I remember." But really, I can't wait to try it again.
*****
Are you a newbie surfer? Where have you surfed?
Be Bold,
Beth
Want to stay up-to-date on all things Wanderlust? Follow me on Facebook, Twitter or RSS/email.