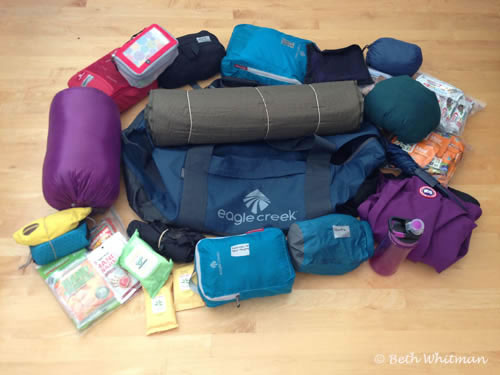 There are a lot of things that make trekking in Bhutan quite different than trekking in other countries such as nearby Nepal.
In Nepal, for example, your gear is carried by porters which means you need a pack that can be carried on your (well, your Sherpa's) back. In Bhutan, your gear gets packed up on horses, ponies and/or yaks. Rather than a large backpack, instead you need a strong water resistant duffel bag for your clothes, gear and personal items.
After checking out a number of options at REI, I decided to take the Eagle Creek No Matter What Flashpoint Duffel with me on the Snowman Trek (see photos of the Snowman Trek here). Not only is this bag the perfect size for trekking but it has a lot of features that I required.
First and foremost it's water resistant. I knew that we'd be encountering rain during the trek but I wasn't sure how much. It turns out, A LOT. While the horsemen did a good job of putting our gear into plastic bags and then putting those plastic bags into large wicker baskets which then got strapped to the animals, I did not want to risk having any of my things wet in the cold and at altitude. Even in the harshest of rainstorms, no water leaked into the duffel.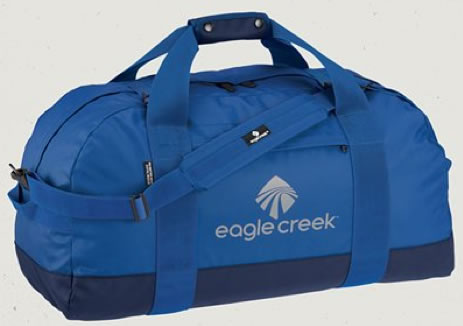 The bag itself is made of Bi-Tech, a proprietary extra-durable material from Eagle Creek. Even with all the tossing around throughout the 25-day trek, the bag never ripped or accidentally got cut as the material was just too heavy.
I was equally as confident about the zipper. I stuffed the bag full each day, sometimes having to hold the bag shut in order to get the zipper closed, and I never had a doubt about it staying shut.
There are other features to the No Matter What Flashpoint Duffel that were nice but not as important to me:
Removable shoulder strap in addition to handles on the top of the bag
Front exterior pocket for easier access to items inside
Reusable stuff pouch
This duffel comes in three sizes, small (30L), medium (59L) and large (110L). I used the medium bag but I also had a second very small bag for some other items. Next time (and yes, I'm returning to do the Snowman Trek in 2016!), I'll definitely use this same medium-sized bag but may leave a few things behind to save on space. 🙂
Available on Amazon starting at about $60.
Be Bold,
Beth
Related links:
Success on the Snowman Trek
Do you read blogs in Feedly? Click here to add this blog to your Feedly reader.
Disclosure: Eagle Creek provided this duffel to me for review. Regardless, everything I have said in the post reflects my honest opinions.